Nothing compares to the beauty of a natural tan, majorly because you rock that golden brown shade of sunshine exuding through your skin without a single stress line of chemical damage on your forehead. And all of it for a good reason, the tan season brings you the sun tattooing its shade on your skin without any risk of any harmful agents seething in it.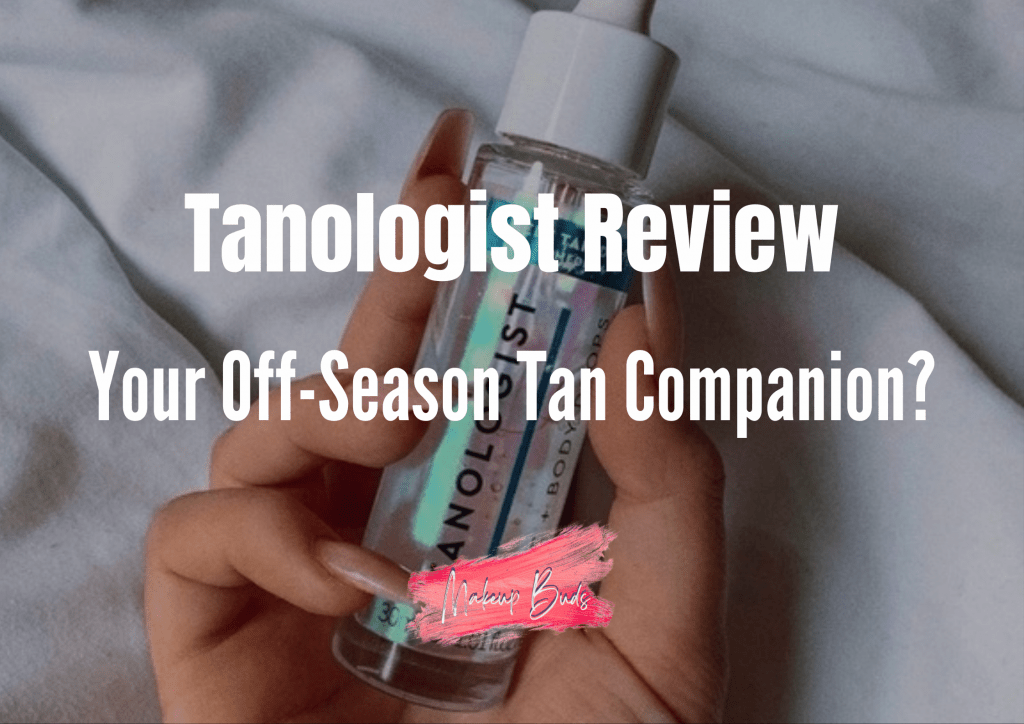 To save you the hassle and the high price range of getting professionally tanned, Tanologist presents you with Self-Tan products. But is it a reliable tanning solution? We have gathered some unbiased Tanologist reviews to reveal the truth and help you determine whether you should go for it.
Tanologist Reviews | Your Off-Season Tan Companion?
There's a range of Self Tanning Lotions, Gels, Wipes, and something as elaborate as a Self Tanning machine to give people their desired tans in all the seasons. However, with so many products already at your disposal, the options would make settling on a perfect tanning solution even harder. All the answers have drawbacks and benefits, but you'll soon realize that the desired tans are best done at the salon.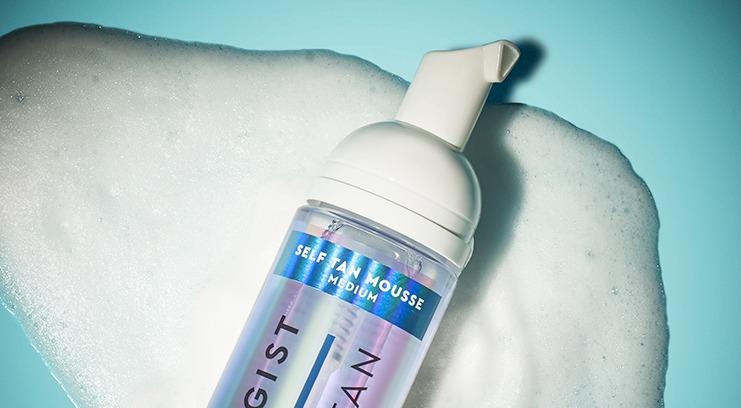 With the standard of a good tan set very high in the industry, Tanologist still managed to make its mark as one of the easy-to-use and affordable tanning solutions. It's a spray tan in a bottle and claims to be non-messy and a non-greasy formula. Not only that, it is your '#sunkissed' partner without a professional salon makeover or without burning a hole through your pocket. 
However, every product has pros and cons; no product should go on your skin before thoroughly researching whether it works for you. So let's walk through all of the details of the Tanologist and understand whether it's suitable for you or it isn't.
Bestseller Tanologist Products |
Tanologist Reviews
Tanologist Face and Body Drops
The Tanologist Face and Body drops are an easy-to-use product for all skin types looking for a great alternative to the existing Tan options. The drops illuminate the skin by adding a more profound and darker shade of brown to your skin without little to no damage.
Tanologist Face and Body Drops, Dark - Illuminating Self Tan Drops, Vegan and Cruelty Free, 1.01 Fl Oz
Mix Drops with your skincare, makeup or body care for a nourished glow that's 100% customisable; This flexible formulation is perfect for both newbies & experienced tanners who love a natural looking fake tan; The more drops you add - more glow
No colour guide means: No blocked pores, No drying effect on the skin, No tan-transfer onto sheets or clothes
This face and body tanner has been tested and approved by dermatologists, so it's safe for sensitive skin types & is free from the irritating ingredients which lead to breakouts & clogged pores
Using our Tanologist Self-Tan Drops will brighten, soften and hydrate with our skin-saving trio of Pink Grapefruit, Goji Berry & Juniper; The non-comedogenic formula works with your existing skincare, and can be used on both face & body
Available in 3 adaptable shades, choose yours based on your desired end-result and reapply as often as you need: Light Glow, Medium Tan, Dark Bronze; Using 2-12 drops, you can choose the level of glow you wanna go
The Face and body drops claim to be an addition to your existing skincare routine resulting in a lasting effect on your skin. As Tanologist works explicitly on more durable products, their motto is maintained through these drops.
Pros
Clean Formula

Vegan Cruelty-Free

Easy Application

Skin Nourishing Formula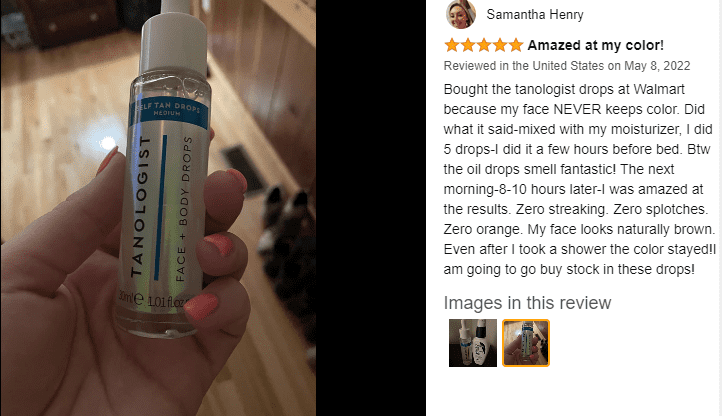 Cons
Reviews suggest no difference in the skin tone

Highly-priced

No directions mentioned

Mild greasy effect
Tanologist Day Glow Face Serum
The Tanologist Day Glow Face Serum is an all-provided serum that can be alternatively used as a primer under your makeup look, or it can also be used to provide a base to your 'no-makeup' look. It helps enhance the outer appearance of your skin but also helps nourish your skin for more lasting effects.
The face serum is enriched with anti-acne properties other than being derm approved. This is your product in case you need a product that helps your makeup and adds a gradual change to your appearance.
Pros
Moisturizing 

High glycerin content

Cruelty-Free

Affordable Pricing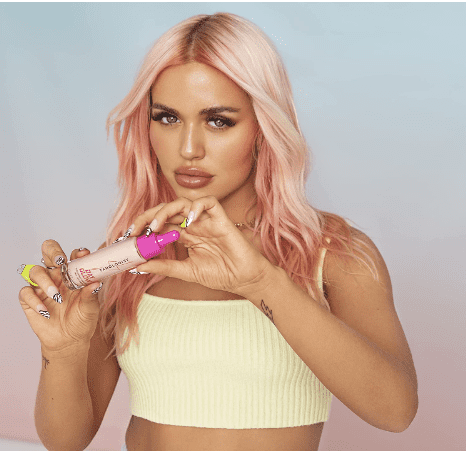 Cons
May cause irritation

No drastic difference observed 

May Cause dry skin

Breakouts are observed
Tanologist Gradual Oil
This is the perfect product for all who want to gradually shift from a pale skin tone to a more golden-brown shade. People want to blend into a shade more to their liking without getting an immediate tan done with substantial damage to their skin.
Tanologist Self Tan Overnight Oil Treatment - Organic Hydrating Night Oil for Gradual Tan, Vegan and Cruelty Free, 1.01 Fl Oz
SKIN CARE MEETS SUN TAN | Brighten, rejuvenate and hydrate your skin overnight with our non-comedogenic formula.
HYDRATING | Our trio of grapefruit, goji berry and juniper will recharge skin while you sleep so that you wake up with a sunkissed glow.
ALL SKIN TYPES | Our oil has been tested and approved by dermatologists. It's safe for sensitive skin and is free from the irritating ingredients that cause breakouts and clogged pores.
THE GLOW DOWN | More drops = deeper glow. Use at night to recharge skin. Vegan, Organic, and Cruelty Free.
TO USE | Apply drops directly onto the face, massaging in circular motions and avoiding the eye area. Color will be fully developed in 8 hrs. Reapply as needed for deeper glow. Wash hands after use.
In all of those cases, the Tanologist Gradual Oil is your savior; it saves you the effort of adding another task to your to-do list and protects the nourishment your skin receives from a constant skincare routine. The oil can be added to your skincare routine without having to go through the hassle of mixing it with a moisturizer.
Pros
Easy Application

Skincare agents added to the blend

Moisturizing formula

Great price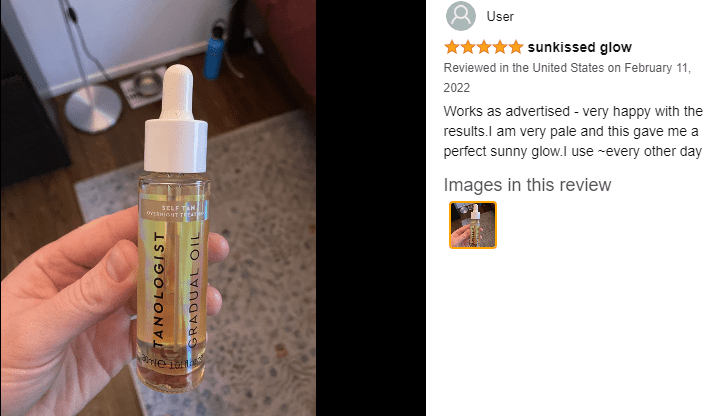 Cons
It may leave an oily texture

Gradual Change

Greasy texture observed 

Methodical blending required
Tanologist CGI Tan Mousse
For all of us who need a tan one shade darker than we usually get, this is THE product for you. Your hunt for a product that gives you easy application with a lasting effect ends when you add the Tanologist CGI Tan Mousse to your cart.
Tanologist Express Self Tan Mousse, Medium - Hydrating Sunless Tanning Foam, Vegan and Cruelty Free - 6.76 Fl Oz
FAST | Our tanning foam is express - leave tan on for 2 hours for a sunkissed glow or overnight for a deep bronze; glow will last up to 1 week and fades evenly. Choose shade based on desired end result.
MESS-FREE | Express Self Tan Mousse dries fast and is transparent - this means no more blocked pores, dry skin, or tan transfer to clothes or sheets.
HYDRATE & SMOOTH | Tanologist's tanning mousse is formulated with Grapefruit, Goji Berry and Juniper to hydrate and brighten. Extra-firming root and resin extract work to smooth and tone skin.
THE GLOW DOWN | Dermatologically tested and approved, so it's safe for sensitive skin types and is free from irritating ingredients. Vegan and cruelty free.
TO USE | Prep skin using Tanologist Eraser & Primer. Moisturize dry areas. Apply to skin in sweeping motions using tanning mitt. Wash off after desired shade is reached.
This Tan Mousse has been specially designed for all of us who need a great tan but within the privacy of our own four walls. The product comes with a set of directions that are extremely easy to follow and must be followed to the T to achieve your desired perfection with the tan. The mousse-like texture facilitates the need to get the shade evenly spread throughout the surface of your skin.
Pros
Even coat throughout the skin

Lightweight Formula

Cruelty-Free

Available in various tan shades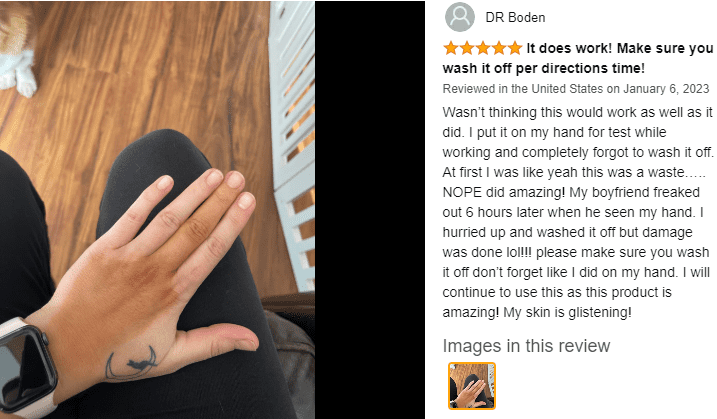 Cons
It may leave a sticky residue

Users observe a different odor

Could tan darker if left for too long

Slightly high priced 
How To Use The Tanologist Self Tanning Water?
It's always beneficial to go through the 'How To' Guide before you lather a product on your skin. Especially when you are working with a new product that will affect your appearance radically, you must. The product mentions a few steps to be followed. However, we'll add a few valuable suggestions to help make the experience more favorable for the users.
Tanologist Express Self Tan Water, Medium - Hydrating Sunless Tanning Water, Vegan and Cruelty Free, 6.76 Fl Oz
FAST & EASY | Our self tan mist for face and body develops in 4-6 hours and doesn't need to be rinsed off. Choose shade based on desired end result.
CLEAR | No color guide means no blocked pores, no dry skin, and no tan-transfer onto sheets or clothes.
SKIN FIRST | Our signature trio of pink grapefruit, goji berry, and juniper works to brighten, soften, and hydrate skin while giving you the perfect glow.
THE GLOW DOWN | Made with 81% less plastic. Use our tanning water as a primer or setting spray. For the ultimate refreshing application, store your water in the fridge! Vegan and Cruelty Free.
TO USE | Moisturize dry areas. Mist onto skin from head to toe, blending with a tanning mitt or hands. For the face, spritz on then blend with tanning mitt or blending brush. Wash hands after use.
Before you begin tanning your entire body, do a swatch test. Take a small part of your body that wouldn't be easily visible and try applying a small amount of the product there. Wait for some time before you rinse it off. Once you like the color and its effect on your skin, proceed to have your complete tan done. 
Prepping your skin before you move on with the tanning is a crucial step. Make sure your skin is shaved off all the body hair; it's thoroughly exfoliated to eliminate any excess dead skin cells and then moisturized to hydrate and nourish the skin. You can also use a salt scrub instead of an exfoliating product. Apply a thin layer of moisturizer to your skin and massage it in. 
You can sit on a towel for your legs and spray the water over them. However, users recommend doing it in the shower for the rest of the body to avoid any mess. For your face, gently spritz the tan and massage with a mitt or bare hands. Once thoroughly sprayed the product, rub the tan mist in circles to ensure the best results using mitts or hands.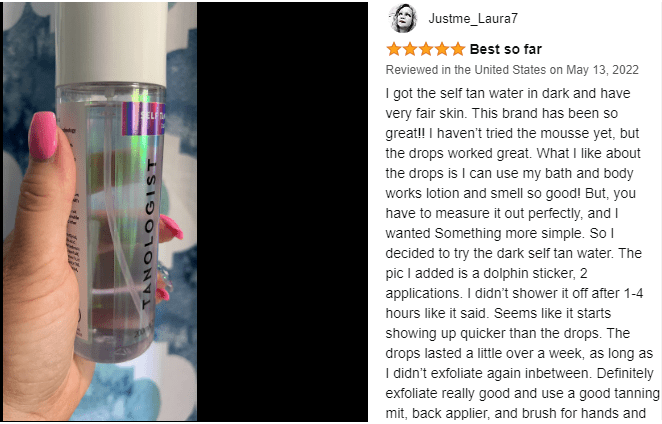 Washing it off and Aftercare
Once you've sprayed on the tan, you can either wash it off after a couple of hours or directly shower the following day. The tan will eventually start showing. However, you're not sporting a natural sunburn tan, so remember to lather SPF on your skin whenever possible to get the best of your newly golden skin. 
Tanologist Reviews | Tanologist Before & After
Customer reviews suggest that almost 69% of the users were satisfied with the products, while 6% were disappointed. The review images indicate that the tanning products work for most users and give an adequate golden brown shade. 
Robyn reviewed the product with 4 stars and said, "Being a consistent user of self-tan and trying a set of different tans, I loved the Tanologist. I needed it to be darker, and it is. I layered my legs with two coats. After the first coat has dried, I recommend using lotion after you shower or rinse it. It also flakes off if you don't rinse it off."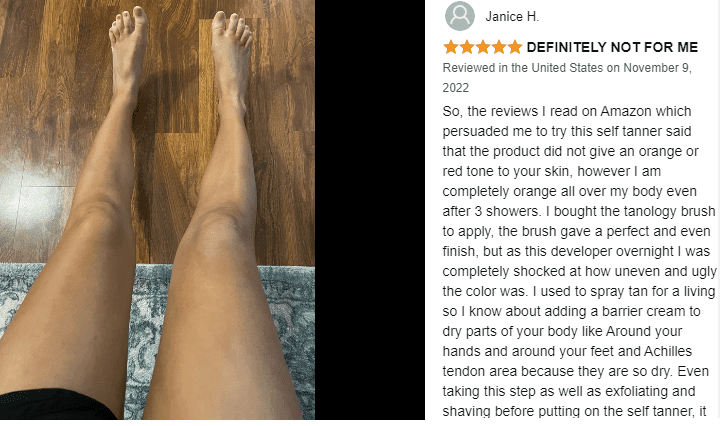 With mixed reactions, another user, 'Already Dead,' said, "DO NOT sleep with the tanner on. It tends to have heavy yellow undertones, even on pink undertone skin. The Tanning water is supremely sticky and for those without air conditioning, having this sticky stuff on in the humidity for 2-4 hours feels so incredibly gross." 
However, as previously mentioned, some products may only work for some people. Martine expressed immense disappointment in the product, adding one star saying, "Was expecting a darker shade. I'm very fair, and it made little to no difference. It didn't last at all. Overall not worth the hype, and it was a waste of my money."
Frequently Asked Questions | Tanologist Reviews
How long does a Tanologist last?
The brand claims that its tanning products last for up to 7 days. However, users observed that the product started fading after day 4 and needed to be retouched after every few days to maintain the tan. 
Is Tanologist suitable for your face?
Tanologist Self Tan Water is a non-comedogenic formula with skincare infused in the groundbreaking formula. Hence it could be used both on the face and on the body. 
Is Tanologist Sweat-proof?
Tanologist claims that the products are transfer-proof and none of the reviews complained about any transfer. However, they did mention that the product is sticky, which may lead to some transfer. It dries down in seconds and lasts for around 24 hours. It is sweat and water-resistant and helps hide imperfections and blemishes. 
How to remove the Tanologist Self Tan Water effects?
Tanologist also offers you a tan eraser. You start applying the Tanologist Self Tan Eraser and Primer at least 3 days after using the initial tan. Leave it for about 5-8 minutes, then rinse it. Buff your skin gently till you get rid of all the color. 
Final Words
Regarding tanning, your application process, skin type, color, blemishes, and pigmentation on the skin all create differences in every individual tan. You'll only know which product works for you once you try it. Based on your skin color and preferences, walk through the product details, decide which tan works best for you, and choose to buy the product. But come what may remember, you don't have to wait for the bikini season to get your tan anymore; choose your tan any time of the year.