Self-tanning has become an excellent option for people who wish to get their hands on an easy tanning process, especially the one where you need not step out of your house to get that sun-kissed glow. There are a variety of self-tanning brands out there with high-quality ingredients that will make you want more! If you are new to self-tanning, you might feel lost like a needle in a haystack!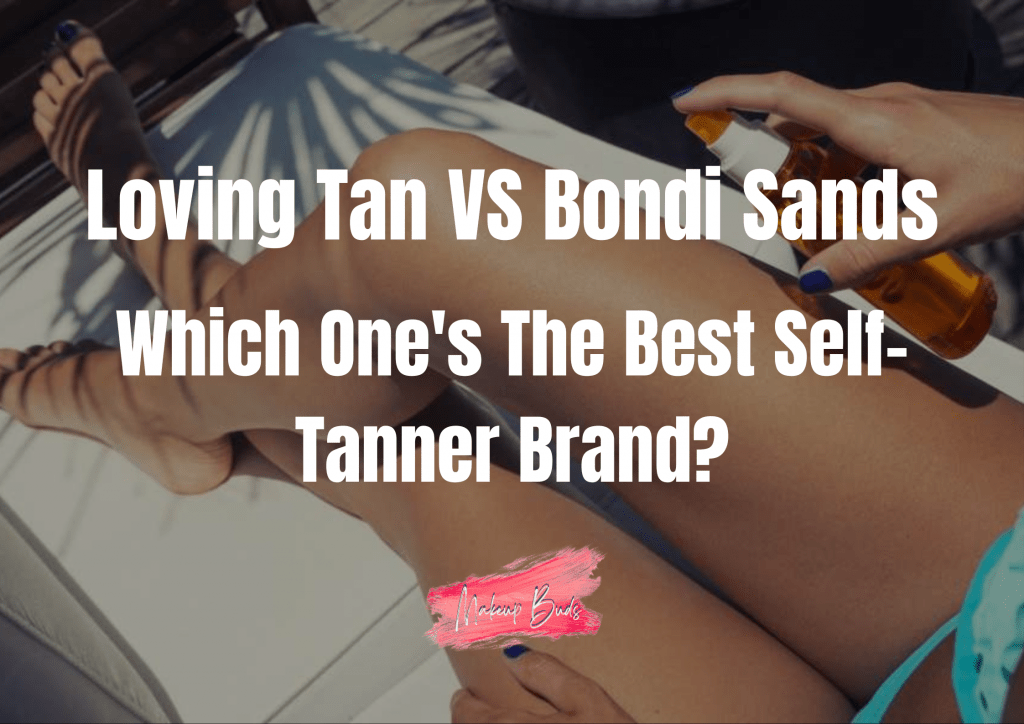 Two famous brands, Loving Tan and Bondi Sands, both Australian-based, have become quite famous and will give you a hard time choosing one. We will make it easy for you with our unbiased Loving Tan VS Bondi Sand comparison, so you can decide which one's better.
Loving Tan VS Bondi Sands | Battle Of The Bronze
Loving Tan
Loving Tan proudly claims that it has become one of the most famous and among the favorite brands of various beauty influencers and other stars who agree its products give you a beautiful, deep, natural-looking tan. It offers multiple tanning products that range from mousses, sprays, and lotions to other tanning accessories and extra stuff like tanning mitts.
The brand assures its customers that all its products are made with high-quality ingredients that are naturally derived and organic. These products are easy to use and apply so you can get a natural-looking tan anytime. The brand has gathered the trust of many customers and has managed to get featured in British Vogue for its iconic product range that helps you get a beautiful and intense tan! Not just that, Loving Tan has also got its name in the famous The New York Times and Elle!
Bondi Sands
Considering the Australian lifestyle, Bondi Sands has created products that include self-tanning, skincare, suncare, and body products. And this is by the sand, sea, and Sun indulged with people's lives. However, compared to Loving Tan, Bondi Sands offers a wide variety of products, too, not exclusively for self-tanning.
In the tanning section, the brand has caught its customers with so many of its appealing self-tanning products that include tanning lotions, foaming water, masks, tanning drops, tanning oils, tanning milk, and not forget their tanning accessories like brushes and mitts.
It also offers various products with SPF and acts as sunscreens.
And yes, this isn't it; it also offers a great range of skincare products that cleanse, treat, hydrate, and protect your skin. Among these categories, you can find skincare products like cleansers, exfoliating powders, eye creams, moisturizers, serums, and even clay masks.
Evaluation of Pros and Cons
Loving Tan Pros
Loving Tan products have a decent smell and are not strong or overpowering.
All of its products are made from high-quality organic and naturally derived ingredients.
Loving Tan has its very famous' Platinum Mousse, which is the darkest and deepest shade of the brand, thereby making it among some of the most tempting picks.
Most self-tanning products are infused with powerful skin-loving ingredients like pomegranate extract, aloe vera, coffee extract, and more.
Even the brand's Tan Remover is packed with great ingredients that help make your skin look better and soft.
Loving Tan products get absorbed and dry very fast.
Their products don't make your skin feel burdened and are lightweight.
The brand offers a built-in color guide so people can easily apply.
The brand is proudly cruelty-free and hence does not test on animals.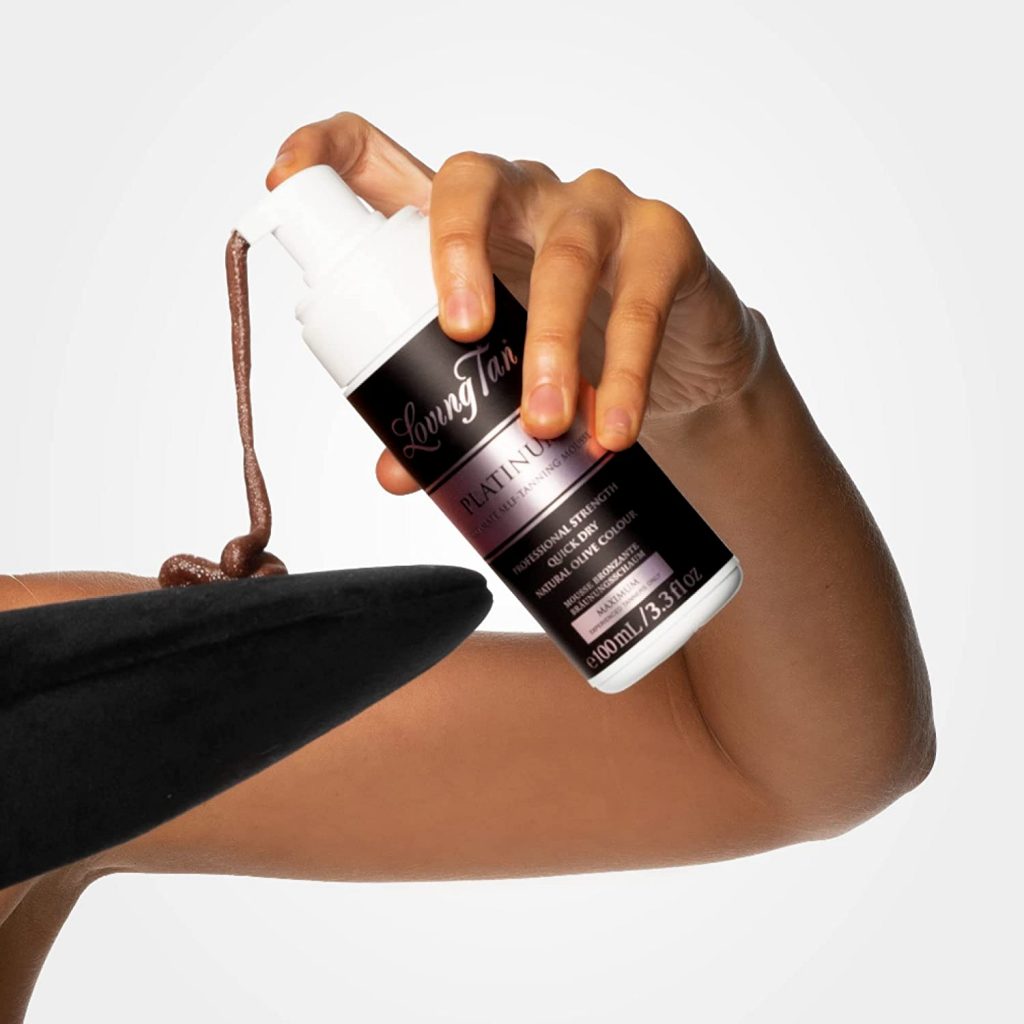 Cons
Some products, like the Bronze Shimmer Luminous Cream, may not last long and even wash off quickly with water.
Loving Tan products are more on the expensive side.
A few products, like the Platinum Mousse, can give off an upsetting DHA smell.
Since some of its products contain many ingredients, they may not suit people with susceptible skin.
Bondi Sands Pros
Bondi Sands is not limited to self-tanning.
It offers people a wide range of skincare products as well.
One of its best-sellers in the skincare category, the Fresh'n Up Gel Cleanser is infused with ingredients like Aloe Vera, Chamomile, and Calendula Oil that work on gently cleansing your skin while giving it a soothing effect. The brand proudly claims that, as per a consumer study, 98% of people observed a clear complexion after a month of consistent use.
The Sunny Daze SPF 50 Moisturizer has won hearts with its excellent skin protection with the presence of Zinc Oxide and vitamin E, and hibiscus flower extract that ensures proper skin hydration.
The brand's Gradual Tanning Milk is yet again another most-loved product which is made with aloe vera leaf juice and shea butter to give your skin the nourishment it needs.
The famous Self Tanning Foam 1 Hour Express instantly gives you tanning results with that sun-kissed glow in just an hour while hydrating your skin with its lightweight formula.
The brand is cruelty-free.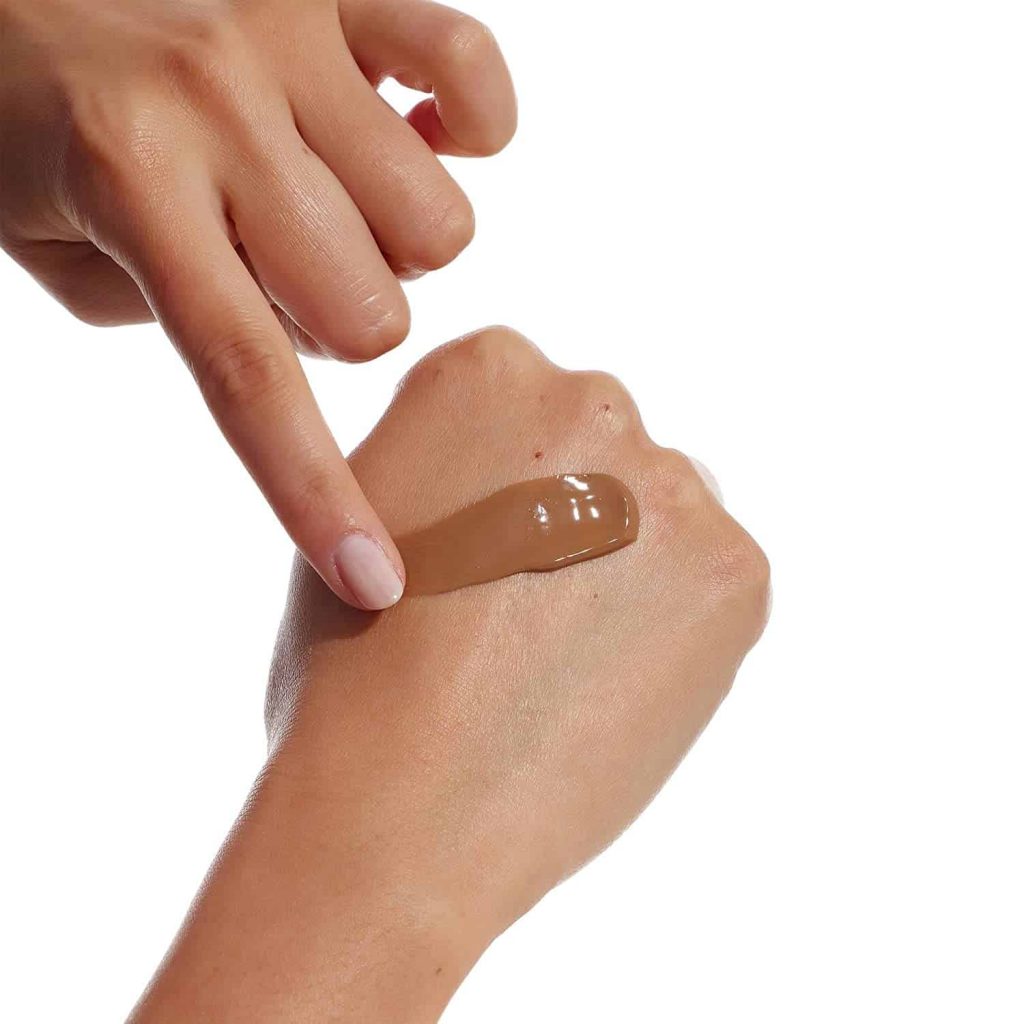 Cons
The Self-Tanning Foam can be very staining, and the color can come off on your clothes.
Some complained that the Sunny Daze Moisturizer did not provide an even application and became sticky.
Some of its products may not be suitable for sensitive skin, as a few users have reported allergic reactions and irritations.
Though the brand offers a good range of shades, some people feel that the brand's products aren't dark enough for people with intense skin tones.
Customer Feedback | Loving Tan VS Bondi Sands
A user named Annliz commented about Loving Tan, 'I am loving the Loving Tan Deluxe Bronzing Mousse. I kept trying so many self-tanners and searched for the ones that were budget-friendly and streak-free. The Mousse is working very well, and its application is simple. It has much less drying time, so that you can get into your clothes within minutes.
However, you must shower later that day or the next morning to rinse off the developer, which is a turn-off. The first time I didn't do it, my skin was blotchy. The next time I applied it, I showered the following day, which made a huge difference. In all, it also lasts a lot longer than the other products.'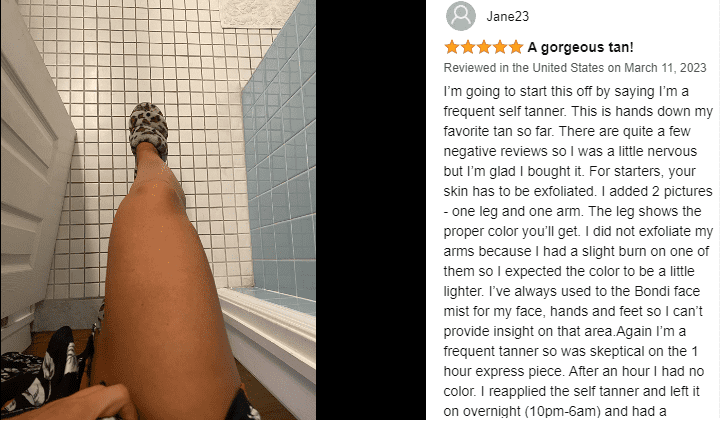 A user named Deven wrote about Bondi Sands, 'The Bondi Sands Self Tanning Foam works amazingly. I have been using it for more than a year now. It helps in giving me a great shade that does not look orange during the winter. The foam has a good scent, and the spreading is easy. Also, it is streak-free and does not turn blotchy. The only reason I am giving it 4 stars is that I received an open bottle. Didn't want to take any chances, so yeah! '
Another user Raffaella said about Loving Tan, 'The Deluxe Face Tan isn't that great. Initially, my face was left very dry after using it. Though the Mousse is amazing, the Face Tan did not give my face the color I wanted. Usually, I have a skincare routine that involves various steps of exfoliation, toning, and other retinol-based products. But the manufacturer has recommended that I cut them off when I am self-tanning my face, which is a huge downfall. In the end, I had to use this on my hands.'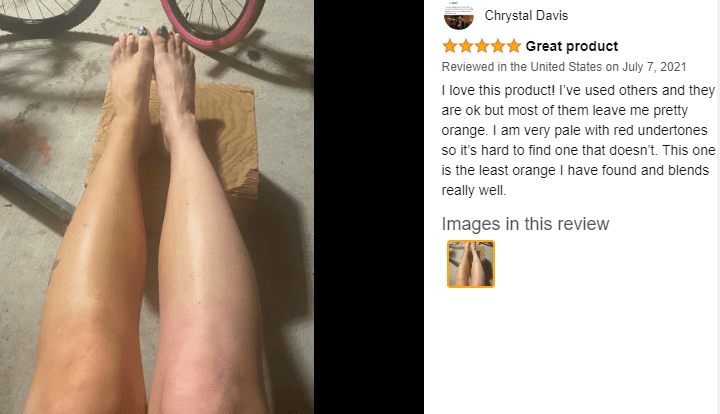 Chantelle Jackson said about Bondi Sands, 'I wanted to like the Sunscreen Body Lotion, but I feel it isn't for my skin right now. It is highly moisturizing and does not leave a white cast on your skin. However, it feels a little greasy on your face. When I applied this, I kept having skin breakouts. I hope my skin accepts this product, and I embrace it back.'
FAQs | Loving Tan VS Bondi Sands
How long does Loving Tan's Platinum Mousse Tan last?
As per the brand, Platinum Mousse's results may last about 7-10 days. However, to increase its life cycle, apply a moisturizer daily and drink a lot of water to keep your skin hydrated.
Can you take a dip in the pool after applying Bondi Sands?
The brand recommends you wait at least 6-8 hours after applying their products so that the tan develops entirely on your skin. After that, you can go swimming but note that pools and seawater containing chlorine can fade away the tan quicker than usual.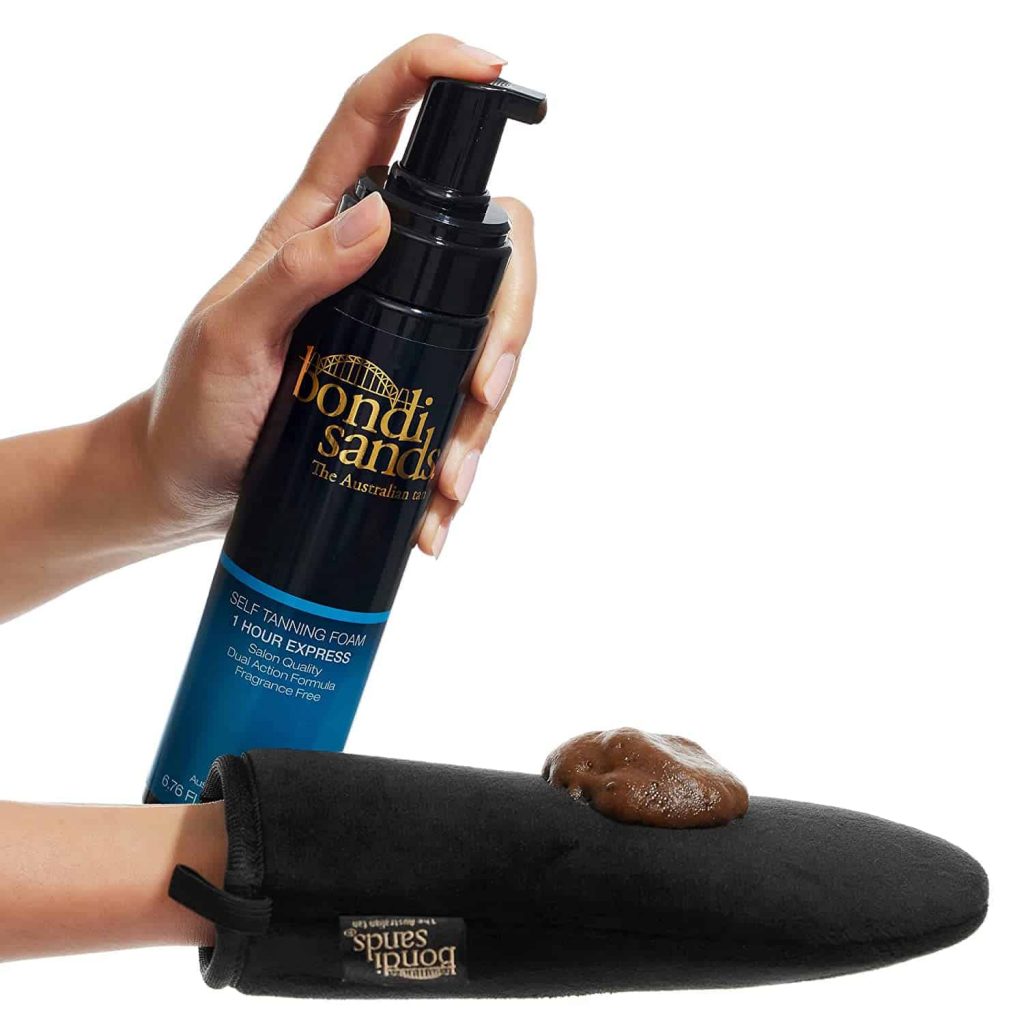 Can you apply any Bondi Sands products to your face?
Yes, all the products can be used on the face, but since the facial area is much more sensitive than the other parts, it is highly recommended that you do a batch test before applying it to your face. For susceptible skin, you can use moisturizers or maybe try products exclusively for your face.
How long do the results of Loving Tan's 2 HR Express last?
The formula is made to last for about 7-10 days. However, to increase its life cycle, apply a moisturizer and an oil daily and drink a lot of water to keep your skin hydrated. Also, avoid using fragranced moisturizers.
Final Words
There are various factors to be kept in mind when choosing self-tanning products. The range of products is very appealing to customers. Additionally, the quality of ingredients, the ease of application, and the affordable ranges of products are some of the essential points that make a brand among the most favorite ones. Self-tanning enthusiasts have said both Loving Tan and Bondi Sands are made from quality ingredients.
However, in the final battle of Loving Tan VS Bondi Sands, if you are a person who wants different products, especially a huge range of skincare as well as self-tanning products, then Bondi Sands can be an excellent option for you to try! Moreover, Bondi Sands has many reviews on the internet, making it easier for us to assess the legitimacy of the products.