My pale complexion loves getting tanned, but the sun and I are not friends. Last fall, after spending an hour outside and getting sunburned, I decided to stop sitting in the sun, even while wearing sunscreen.
It's a big no-no to expose our skin to the sun to tan. But with self-tanning, my confidence rises when I get a little tanner complexion. Self-tanning is a secure approach to looking sun-kissed.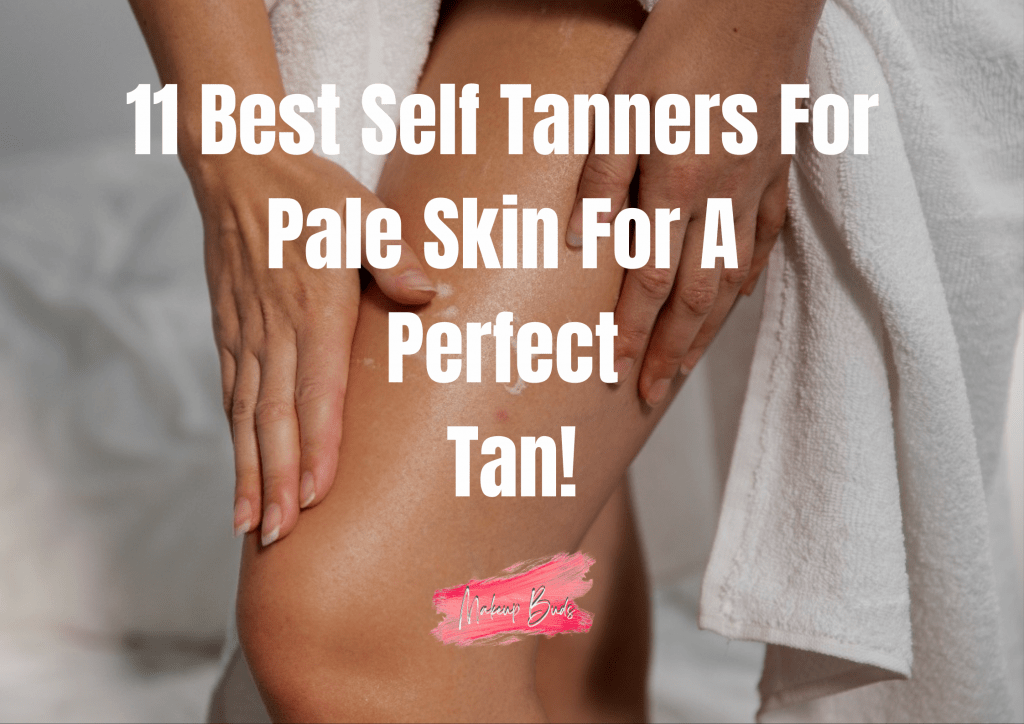 Choosing any random self-tanner is the same as keeping your skin unprotected from the sun; it's dangerous. Since 2016, or nearly seven years, I have been using self-tanner. I have seen some self-tanners that provide more beneficial outcomes than laying in the sun. In contrast, others leave a barely visible tan and become a waste of money. Do you want to know my favorite self-tanner for pale skin? Keep reading to find out!
Best Self Tanner For Pale Skin | Buyer's Guide
For this generation, self-tans are the new cool. According to science, they are better for the skin than a natural tan that might hasten skin aging. But before you impulsively buy the first tanner you see online, I have the right escort to make this process as simple as possible. So these are my best picks from the wide range of self-tanners on the market.
Tropez X Ashley Graham Limited Edition Glow Kit
Since starting her career, Ashley Graham has had incredibly tanned skin on television. I was excited to see what tanning products she produced in collaboration with St.Tropez, and I had to try them out.
The kit comes with Self Tan Whipped Crème Bronzing Mousse and a bespoke applicator mitt that Ashley herself designed and co-created.
Sale
St.Tropez Tan Luxe Whipped Crème Mousse 200ml I Skincare Self Tanner I Fake Tan
SELF TANNER: This luxurious self tan with supercharged skincare ingredients has an easy to apply tinted lotion-to-mousse formula, fusing immediate instant results with long-lasting wear
SKINCARE: Enriched with niacinamide, hyaluronic acid, echinacea & vitamin E for 24 hours hydration, reduced redness & a more even tone
BEAUTY PRODUCTS: Touch dry in seconds with a powder-soft finish - this instantly wearable glow develops as you wear for a streak-free sunkissed tan
HOW TO USE: Use an exfoliator & moisturizer before applying, then simply apply to our St.Tropez tanning mitt & wait 8 hours before washing off
VEGAN BEAUTY 100% clean, vegan friendly & natural tanning actives - makes a great gift for anyone who needs a little self care
A high water concentration in the self-tanning mousse makes it suitable to glide for easy application. Moreover, the formula uses hyaluronic acid, vitamin E, and rosehip oil to create a smooth, silky texture. Vitamin C present in it leaves the skin bright and glowing. Enriched with Echinacea, it helps boost collagen production, increase brightness, reduce redness, and lock moisture in the skin.
Pros
It leaves skin with a golden, silky, smooth texture because of the rosehip oil in its formulation.
Hyaluronic acid and vitamin E boost hydration in the skin, leaving it shiny and plump.
It leaves a subtle golden bronze color after washing.
Mousse instantly dries up and leaves no stickiness or irritation behind.
Fading process of the mousse is even without leaving patches.
It has a subtle fruity smell making it irresistible.
This mousse is suitable for all skin types.
Niacinamide and Echinacea in the formula reduce redness and make the skin tone even.
Cons
It has an orange undertone, so it suits cooler undertones over warm ones.
After applying the mousse, it takes about 6-8 hours for the color to develop fully.
It is on the pricey side.
Results only last for four days after fully set on the skin.
Customer Reviews
A username, Trisha, said, "I love using St.Tropez self-tanner as it works amazingly, leaving no orange undertone."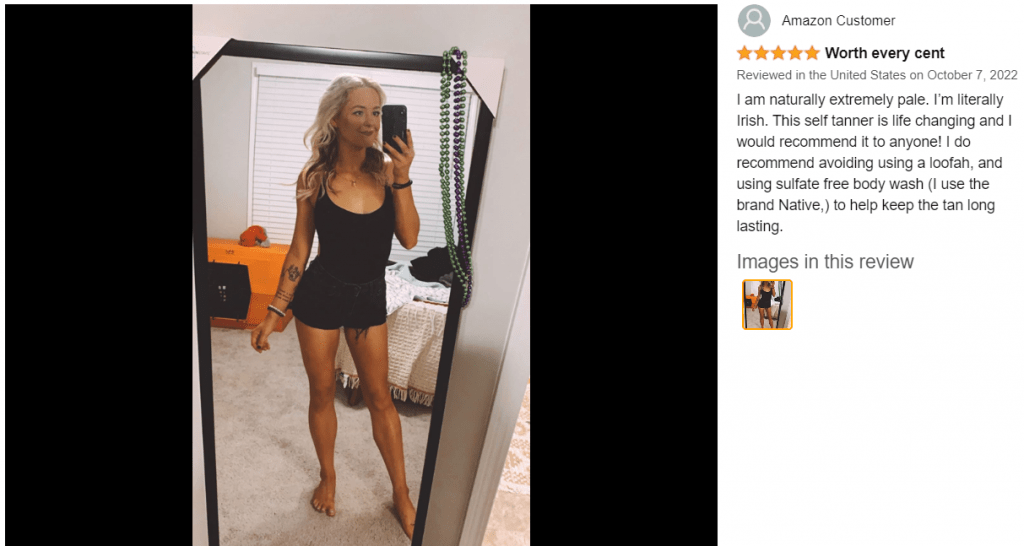 Another user Carla, said, "I have used many self-tanning products, but all of them left me smelling like a bag of chips. St.Tropez mousse has a light, fresh, fruity smell and provides good results."
The Face Illuminating Self-Tanning Drops
When you feel lazy and need tanning specifically on your skin, The Face Illumination self-tanning drops are a go-to, especially in winter. These drops can be directly added to your moisturizer and provide an instantly tanned look. You can increase the number of droplets to get a dark enriched color.
Formulated with raspberry seed oil, vitamin E, and aloe vera, it mainly helps provide skincare benefits, especially hydration and glow to your skin. It also has vitamin C, which helps brighten the skin.
It is available in two shades, light/medium and medium/dark. 2 drops of this product can provide radiance to your skin. As the number of drops increases, the intensity of tanning also increases.
Pros
It does not stain sheets or clothes as it instantly gets absorbed in the skin, requiring no development time.
You can build the color to your liking by increasing the number of drops to achieve your desired look.
The Face Illuminating Self-Tanning Drops leave a beautiful and glowing tan.
It is a streak-free formula.
The formulation is fragrance-free.
Cons
You will need to figure out the correct ratio for your preferred tan level, making it hard to achieve initially.
It is a bit pricey, considering it is used only for the face.
If applied unevenly, brown spots will be temporarily visible until the tan fades away.
Customer Reviews
A user name Sea said, "This tanner drops work wonderfully for my pale skin with my moisturizer. It reduces the need for any makeup for me. But it has the smell of a self-tanner."

Betty said, "Once you figure out your configuration of the drops, it becomes your go-to face tanner leaving you with glowing skin for two days."
Bondi Sands Self-Tanning Foam
Bondi Sands is easily my favorite tanner, with amazing effects in an affordable price range. It is not only my favorite but my aunt's favorite as well. She has tried many self-tanners and settled on the Bondi Sands one due to its simple application and hydrating properties.
Bondi Sands Dark Self Tanning Foam | Lightweight, Self-Tanner Foam Enriched with Aloe Vera and Coconut Provides an Even, Streak-Free Tan | 6.76 oz/200 mL
Bondi Sands Self Tanning Foam is a lightweight, tanner that's simple to apply and gives a flawless finish, every time; Simply smooth on the weightless self tanning foam for an even, streak-free, bronzed tan
Our unique, salon quality formula is enriched with aloe vera and coconut, for the ultimate natural, bronzed glow
Using a mitt, apply foam using long, sweeping motions to clean, dry skin; Skin may be washed after one hour
This sunless tanner dries in seconds to a natural, flawless tan
Bondi Sands Self-Tanning Foam's formulation includes argan oil, coconut extract, and aloe vera, providing moisture and skin hydration.
Pros
Lightweight foam for tanning.
Coconut and aloe vera provide hydration and nourishment to the skin.
The application of the tanner is streak free and easy.
The fragrance of this self-tanner is like coconuts.
It has a wide range of shades available and provides deep dark color after wash.
Due to the presence of red, blue, and yellow cosmetic colors, it leaves a bronze tan.
Bondi Sands Self-Tanning Foam is also suitable for darker complexions.
Cons
It fully develops in 6-8 hours.
It lasts for four to five days only.
Customer Review
A user named Janine said, "I have a pale skin tone, and this tanner didn't turn orange on my skin. It left me with a glowing bronze tan. I use it after every five days and have been using it for more than 6 months now. It is my favorite tanner so far."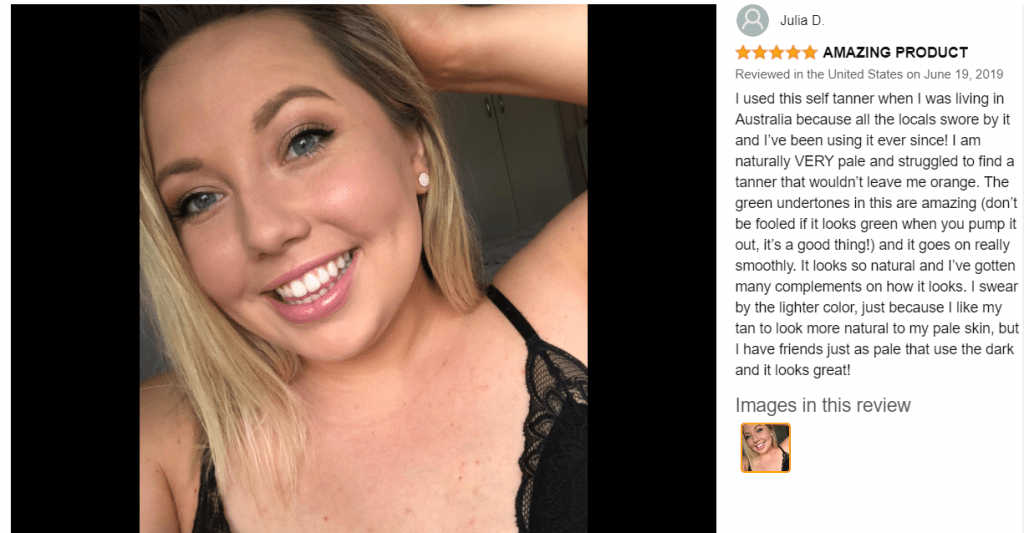 Coco & Eve Sunny Honey Bali Bronzing Self Tanner Mousse
One of my friends recommended this mousse to me. It is a fantastic self-tanner with exceptional results and delivers a deep dark-colored tan.
Coco & Eve Sunny Honey Bali Bronzing Self Tanner Mousse - (Medium) All Natural Sunless Tanning Mousse | Instant Self Tanning Lotion with Bronzer and Skin Moisturizer (6.7 fl oz)
NATURAL LOOKING, SUN KISSED SKIN WITHOUT SUN DAMAGE OR CHEMICALS. The world's first 100% Natural DHA self-tan body treatment with full skin care benefits. Transforms your skin without any of those nasty streaks or blotches for a beautiful natural looking, golden glow with no orangey tones.
ANTI-CELLULITE WITH ZERO NASTIES. This lightweight mousse delivers an instant bronze glow that is fast drying and develops in just 2 hours to a long-lasting tan. Infused with raw virgin coconuts, botanicals and amino acids to hydrate, blurs pigmentation and stretch marks to perfect your skin. Created using our unique Cellushape technology enriched with powerful natural antioxidants like fig, banana, papaya and cocoa to improve signs of aging.
SMELL SO GOOD, YOU'LL WANT MORE. Our Sunny Honey self tan has a tropical mango and guava fragrance that gives you the feel of an island escape. No more biscuit smells! Get ready to rock that tan glow! A little goes a long way as each bottle has roughly 260 pumps and can last approx 10-20 full body tanning sessions.
EASY APPLICATION WITHOUT ANY TRANSFER. Lightweight, non-sticky formula to be applied by hand in circular motions. Use only a small pump to apply the tan to tricky-to-tan areas like the feet, hands, face and ears. Shower in warm water after 2 hours and gently pat skin dry. You may also wish to sleep in it overnight for a deeper and longer-lasting tan as our tan doesn't transfer! Psst, you may even use a fine-tipped brush or freckle stencil to make faux freckles!
CRUELTY FREE, VEGAN AND ALL NATURAL. Formulated with only the highest quality natural ingredients. Our cutting-edge formula will moisturize your skin while giving you that stunning beach babe glow. Our Coco & Eve Sunny Honey tanning mousse is vegan, cruelty free, never tested on animals and toxin free made with all natural ingredients.
The formulation of the tanner is such that because of the presence of lotus extract, it is anti-cellulite and anti-aging. Coconut oil in the formulation helps hydrate and firm the skin. Along with these, mango, fig, and cocoa are also key ingredients, making a unique formulation and helping to improve early signs of aging.
Pros
Applying Coco & Eve Sunny Honey Bali Bronzing Self Tanner Mousse requires a thin layer, saving more product.
It takes only 3 hours to develop fully, leaving a dark color behind.
Along with tanning your skin, this product blurs pigmentation and perfects skin.
The formula is lightweight and non-sticky.
It has color guide technology of green color for an even finish.
This self-tanner employs a green-grey base for a natural-looking, golden glow with no orange tones.
Cons
It has a green undertone which works well with only red or pink undertone.
The smell of the tanner is intense and not pleasant.
It fades off in patches instead of fading completely, making it easy to detect once the color starts fading.
Customer Reviews
A user named Francesca said, "I have been using tanning products since I turned a teenager as they provide me with confidence. My skin is pale; therefore, Coco & Eve Sunny Honey Bali Bronzing Self Tanner in ultra-dark shade works perfectly for me."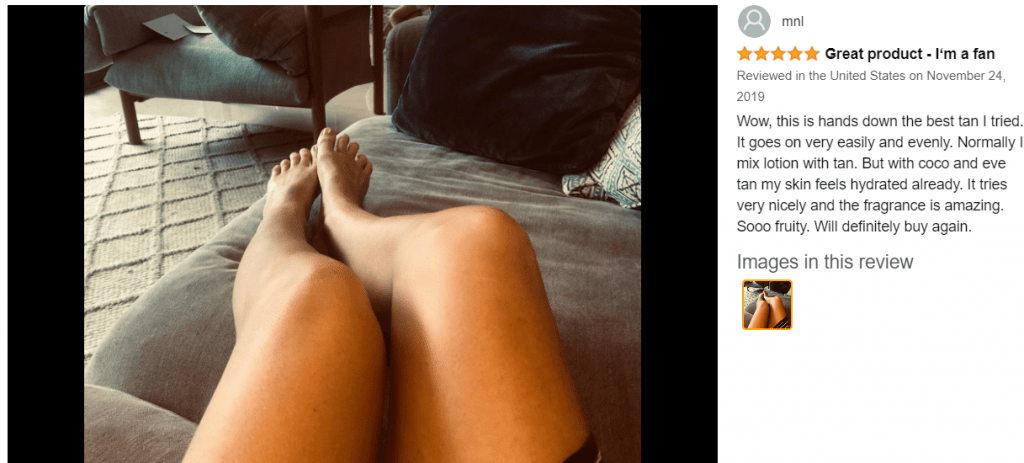 Lux Unfiltered N°10 Blurring Body Glow
Lux is one of the brands that promote individualism and inner beauty. When they launched their self-tanner, I was extremely excited to try it. The incredible ingredient list makes it a promising tanner living up to its claims.
+ Lux Unfiltered N°10 Blurring Body Glow (Fragrance Free) - Blurs Imperfections - Washable - Instant - Hydrating - Vegan Body Lotion
YOU'RE A PERFECT TEN: Swap the smoothing filters with N°10 hydrating, blurring body shimmer lotion for a subtle hint of bronze that blurs imperfections on the body. Highlight your best assets with this easy-to-use formula that will leave your skin shimmering and hydrated.
10/10 RECOMMEND: Our N°10 body glow lotion is rich in shea butter, squalane, sunflower seed oil, and vitamin C for those added skincare benefits we all could use.
CLEAN INGREDIENTS: + Lux Unfiltered's products are vegan, cruelty-free, and gluten-free for the ultimate luxury self-care experience. N°10 skin glow lotion is free from harsh ingredients such as parabens, paraffins, phthalates, sulfates, and silicones.
FIVE STARS: "Flawless. This literally BLURS and evens out your skin and just makes it look absolutely stunning and healthy. It gives the most perfect color to any skin tone. 1000/10."
BODY GLOW GUIDE: Blend the product in circular motions for an even application. Focus on areas like legs, arms, décolletage, and chest for a natural highlight. Apply N°10 shimmer body lotion over N°32 Hydrating Self-Tanning Cream (after it is fully developed) to illuminate your tan.
The formula, which includes ingredients like vitamin C, provides a glowing effect. Shea butter and sunflower seed oil provide hydration and a smooth texture. Squalane, a key component in the formulation, reduces aging by fighting against skin damage and free radicals.
Pros
The tan doesn't transfer to clothes, making it a comfortable experience.
Shea butter in the tanner makes it super hydrating and moisturizes the skin.
The cream-based formula provides a great glow and blurring effect on the skin.
Cons
The Lux unfiltered N°10 beauty body glow tanner is pricey.
The tan is not deeper in color deposit.
It takes more than 8 hours for the tan to develop fully.
Customer Reviews
A customer named Samantha said, "I add this product daily to my moisturizer in small quantities, and it provides me with glossy, hydrated skin."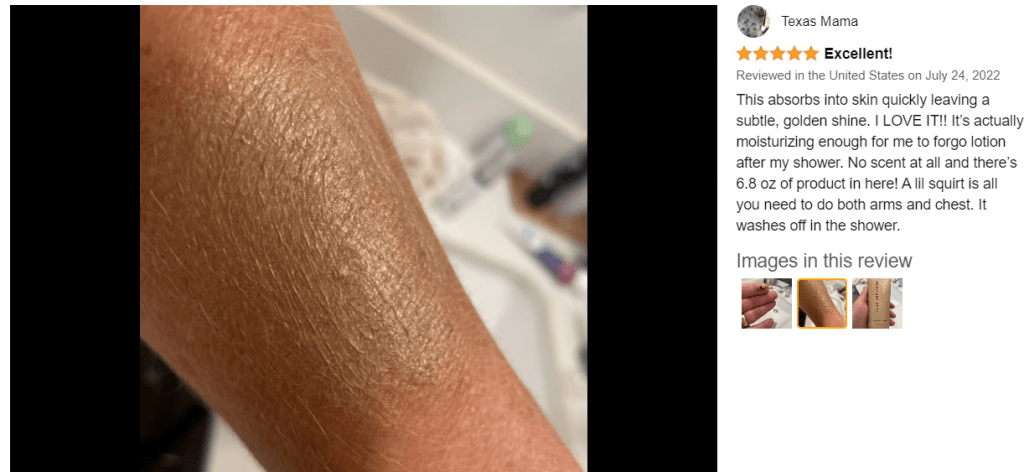 Another user named Jordyn said, "I have fair skin and used this product on my arms and legs to add a hint of tone to reduce the paleness. It helped my arms appear more even and covered all my discolorations."
Bali Body Ultra Dark Self Tanning Mousse
If you are looking for a floral-scented deep self-tanner, then the BaliBody ultra dark mousse is the product you should try on your skin. It also incorporates color guide technology to customize the ideal tan to your skin tone.
Bali Body Ultra Dark Self Tanning Mousse | Natural Looking Perfect Bronzed Shade | Streak-Free Green Based Tinted Self-Tanner | Fake Tan For All Skin Types - 200ml/6.7 fl oz
STUNNING BRONZE GLOW: Bali Body Self-Tanning Mousse offers a beautiful and natural-looking tan. It can be left overnight or between 1-8 hours until the desired level of tan is achieved.
STREAK-FREE APPLICATION: The smooth and easy-to-apply mousse ensures an even application without streaks or patches. Looks very natural on the skin.
FOAMY AND EASY TO APPLY: The lightweight, foamy formula of Bali Body Self-Tanning Mousse is easier to apply on the skin because of its consistency. It can be massaged and spread onto the skin very easily and quickly.
APPLY TO YOUR FACE WITHOUT WORRIES: With its nourishing oils, Bali Body Self Tanner is gentle enough to apply to the face. It is highly recommended that it will be used with the Bali Body Face Tan Water for best results.
ALL SKIN TYPES: Suitable for all skin types this self-tanning mousse delivers a flawless tan that would not cause irritation. Made with natural ingredients, it is a perfect must-have.
Pomegranate extract, calming chamomile extract, and antioxidant coffee seed extract will nourish and moisturize your skin while giving it a shiny appearance.
Pros
It is the only tan with a brown undertone.
BaliBody ultra dark self-tanning foam leaves a deep rich coffee tan after washing.
Cons
Color takes 8 hours to develop fully.
It fades off mostly in patches making it easy to detect.
The tan lasts only one day and becomes lighter after 24 hours.
Customer Reviews
A user named Misti said, "A friend recommended me this product, and I have loved this product. I am getting it for a year."

Another user named Tania said, "The tan left my skin drying and streaky."
Jergens Natural Glow Instant Sun Body Mousse
If you are looking for affordable options, Jergens Natural Glow Instant Sun Body Mousse might be the one. Each time you use it, it will moisturize your skin while delivering a gradual tan. Infused with green tea, collagen, and elastin extracts, it helps firm the skin and lessen the appearance of cellulite.
Sale
Jergens Natural Glow +FIRMING Self Tanner, Sunless Tanning Lotion for Fair to Medium Skin Tone, Anti Cellulite Firming Body Lotion for Natural-Looking Tan, 7.5 Ounce
SELF TANNER BODY LOTION - Create a flawless light bronze tan with gradual, natural-looking color while nourishing and hydrating dry and extra dry skin.
GRADUAL SUNLESS TANNING - Our Jergens Natural Glow & FIRMING moisturizer will gradually enhance and deepen your natural skin tone to provide hassle-free, streak-free color. Cruelty free
CELLULITE REMOVER - Infused with collagen, elastin, and green tea infusions, our fast-acting, anti cellulite formula will help reduce cellulite appearance within 7 days.
FIRMING TAN LOTION - Infused with antioxidants and Coconut Water, Jergens & FIRMING Moisturizer's hydrating blend of nutrients boosts moisturization for healthier looking skin and daily skin hydration.
FRESH SCENTED SUNLESS TANNING - Jergens Natural Glow sunless tanning daily moisturizers will keep you feeling fresh with a light and fresh scent.
Pros
One of the most affordable options in the self-tanning product line.
It promotes the formulation of collagen and elastin to reduce the aging process.
The formula moisturizes the skin with vitamin E and antioxidants.
Cons
The mousse delivers the tan gradually, so it takes time to get the desired tan.
Customer Reviews
A user named Sandu said, "Initially, when I used the product, it was difficult to control the darkness of my tan. Once I got the hang of the amount I use to get a tan best suitable for my skin tone, the application process became easier and more efficient, which I greatly enjoy."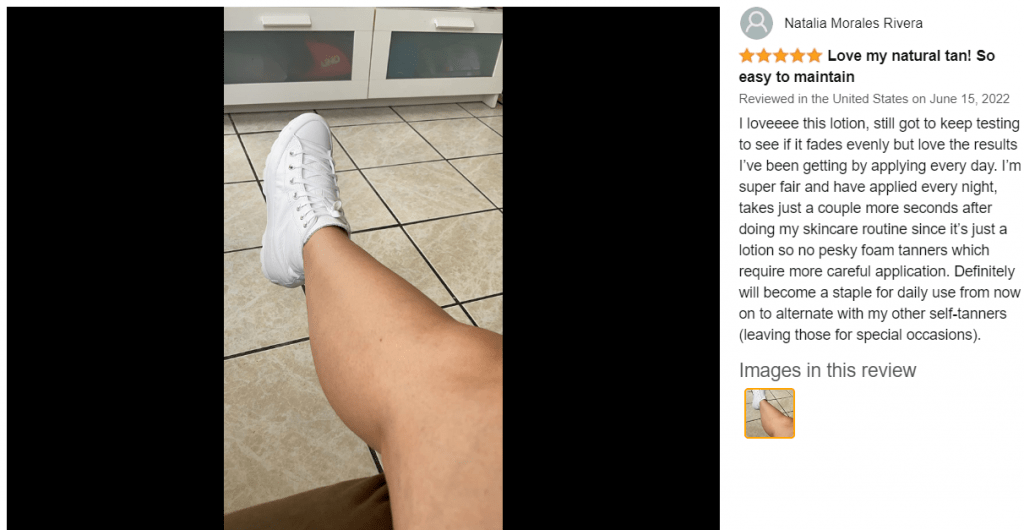 Loving Tan Deluxe Mousse In Ultra Dark
The primary ingredient in this mousse self-tanner is natural DHA and aloe vera, which makes it distinguishable from other self-tanners in the market. If you want a deep brown color, try Loving Tan Deluxe Mousse in Ultra Dark, and you will fall in love with it.
Loving Tan Deluxe Bronzing Mousse, Ultra Dark-Streak Free, Natural looking, Professional Strength Sunless Tanner- Up to 5 Self Tan Applications per Bottle, Cruelty Free, Naturally Derived DHA- 4 FL Oz
Made By Tan Lovers For Tan Lovers – The Deluxe Bronzing Mousse gives you a natural looking tan with immediate colour. The quick drying foam dries after just 60 seconds and leaves no sticky residue. Rinse the colour guide off after eight hours. Your tan will continue to develop into a deeper, darker tan over the next 24 hours.
Colour Guide Technology – The built-in colour guide contains an instant bronzer making the application foolproof. The colour guide technology ensures an easy, streak-free application every time. Our sunless tanner not only nourishes and hydrates your skin but is deliciously fragrant. Experience a healthy, glowing complexion with every application.
Professional Strength & Dermatologist Tested – Our products are proudly crafted in Australia using premium naturally derived ingredients. Our salon inspired formula contains high concentrations of active ingredients to ensure you achieve the most natural looking tan. It is long lasting, giving you sun-kissed skin without the sun's rays.
How To Use – 1. Apply moisturiser liberally to any dry areas, including your hands, feet, ankles, wrists, knees and elbows. 2. Pump the mousse onto your Loving Tan Deluxe Applicator Mitt. 3. Using circular motions apply to your body blending as you go. 4. Allow 60 secs. before dressing. 5. Shower off the colour guide after 8 hours.
Pros
Skin becomes dry to the touch and causes no stickiness and discomfort while waiting for the color to develop.
Loving Tan Deluxe Mousse In Ultra Dark gives a deep brown self-tan color.
It has a light floral scent, making it a fantastic choice.
It fades off evenly throughout the body.
Cons
It does not provide adequate moisture to the skin.
Little pricey when compared to other self-tanners.
Customer Reviews
A user named Alisha said, "I have been self-tanning for 10 years and have not found any other self-tanner as better as compared to this one. I love the formulation. I have oily skin, so it works perfectly for me."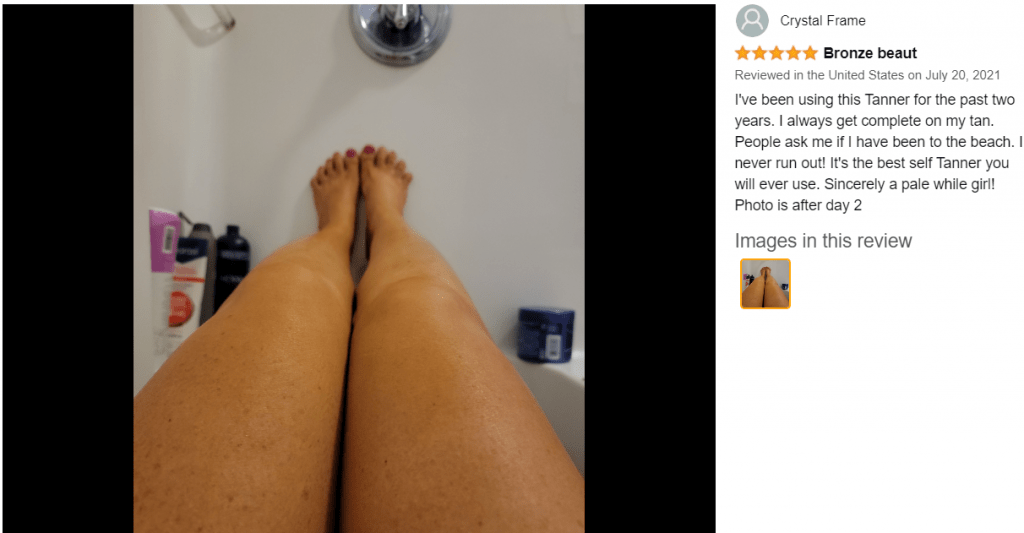 Bali Body 1 Hour Express
Whenever in a rush through my week and need an instant self-tanner, I prefer Bali Body 1 Hour Express due to its promising results and convenience. It is a foam-based product formulated with natural DHA.
Bali Body 1 Hour Express Self Tan | Quick Drying Natural Looking Tanning Foam | Streak-Free Customizable Tanner for All Skin Types | 100% Vegan and Cruelty-Free - 225ml/7.61 fl oz
CUSTOMIZABLE, FAST-DRYING FORMULA: Achieve a natural-looking tan in just one hour with our fast-acting self-tanning foam. Let it stay for one hour for a bronzed glow, two hours for a deep tan, and three hours for the darkest complexion.
STREAK-FREE APPLICATION: Achieve a flawless and streak-free tan with our self-tanning foam, thanks to its easy-to-apply and lightweight aerated formula that blends seamlessly onto the skin.
NATURAL-LOOKING TAN: Get that sun-kissed glow without the harmful effects of UV rays. Our self-tanning foam creates a natural-looking tan that is comparable to a natural sun tan.
LONG-LASTING EFFECT: Enjoy the longevity of a tan that stays radiant and even for 5-7 days when paired with a moisturizer, providing you with a beautiful and consistent tan whenever desired.
SUITABLE TO ALL SKIN TYPES: Our self-tanning foam is suitable for all skin types, including sensitive skin, providing a safe and gentle tanning experience without any irritation.
Pros
It provides a deep warm tone to skin color.
The smell is subtle and floral.
It develops itself in 1 hour, as the name suggests.
It uses color guide technology to help you achieve the desired tan.
Cons
It fades away quickly and in a patchier manner.
It is expensive compared to how long it lasts.
Customer Reviews
A user named Leila said, "I loved the color it gave in just one hour. Other self-tanners take 6-8 hours to develop such a deep color."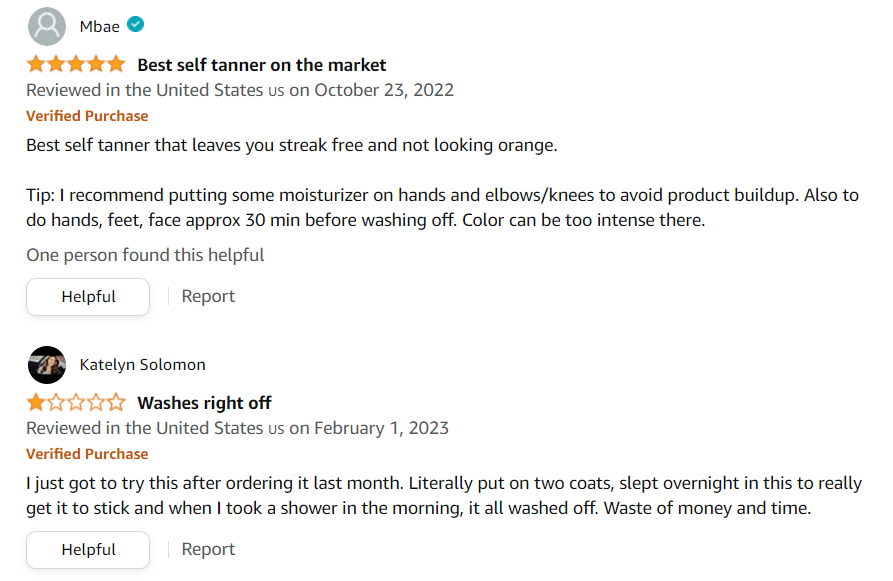 Tarte Brazilliance Plus Self Tanner
This product's formulation contains vitamin A and E-rich sunflower seed oil, which helps to hydrate, rejuvenate, and condition skin. Maracuja gives optimal hydration and firmer, brighter, smoother-looking skin.
Sale
Pros
It has a deep foaming self-tanner.
Color fully develops within two hours.
Aloe leaf juice, a key ingredient, helps moisturize and soothe skin.
Coconut oil extract in the tanner helps to nourish the skin.
Jojoba seed oil leaves the skin looking supple and smooth in texture.
Cons
The price of the Tarte Brazilliance Plus Self Tanner is very high.
The color fades off very quickly.
Customer Reviews
A user named Maxwell said, "I brought the tanner for my wife, which she loved. She has been using this tanner ever since."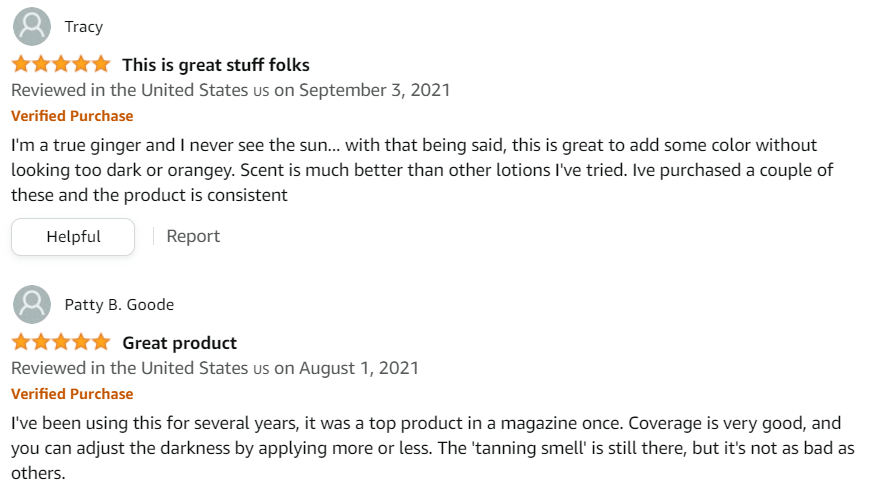 Tanologist Express Tan Mousse (In Dark)
Tanologist Express Tan Mousse's water-to-foam formula makes it easier to achieve a bronzer appearance. The formulation of the tan mousse contains vitamin E and grapefruit extract making it hydrating and giving skin a shiny appearance. Extra-firming roots and resin extract work to smooth and tone the skin.
Pros
It applies clear, which means it does not have a color guide technology.
The price point of this tan is very affordable.
It takes one to four hours to develop fully.
A floral scent is present in the tan but is not overpowering.
Due to its formulation, it has a smooth and quick application
It has a natural caramel color and fades away evenly.
Cons
It is slightly sticky and does not dry off entirely during the time of application.
The tanner contains ingredients that might clog pores and cause acne.
Customer Reviews
A user named Cristella said, "I was thrilled to choose Tanologist Express Tan Mousse as my first self-tanner. I achieved the desired color within an hour, lasting about a week."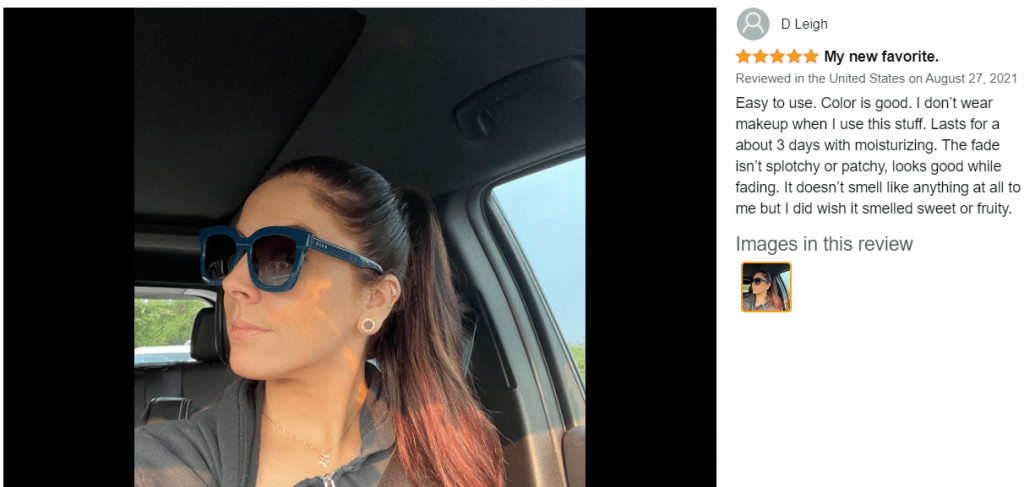 Self Tanner For Pale Skin | Buying Guide
Knowing so many self-tanners available in the market, choosing the best one for your skin can take time and effort. Here are some simple tips for you to follow to make your self-tanning journey easy, as my aunt made it for me.
Choosing The Suitable Self-Tanner
Self-tanners are drying in nature; therefore, choosing the right one for your skin is crucial. Choose hydrating ingredients for your skin, no matter your skin type. Pick long-lasting formulas for your skin that fade off evenly without looking patchy.
Ingredients To Look Out For
Coconut Water– Packed with natural vitamins and minerals, coconut water nourishes the skin and provides your skin with a high electrolyte level, which smooths the skin. It also helps boost anti-aging properties by increasing antioxidants in your skin and soothing redness.
Jojoba Oil– Due to its anti-inflammatory characteristics, it helps calm chafing and chapping, lessen dry skin's tendency to turn red, alleviate eczema and rosacea symptoms, and keep skin pleasant. Jojoba oil's B-complex vitamins and Vitamin E prevent and repair skin damage.
Vitamin C– Vitamin C's antioxidants may aid in protecting against the potential harm UV rays can do. It is an antioxidant powerhouse that helps to smooth wrinkles and lighten dark circles. Additionally, it supports the growth of collagen, a protein that prevents skin from drooping.
Hyaluronic Acid– The incredible capacity of hyaluronic acid to hold moisture makes hydration its main advantage. Inadequately hydrated skin cannot maintain a sufficiently intact skin barrier, making it more susceptible to injury from environmental and external factors. Hyaluronic acid lessens wrinkles and creases while assisting the skin in stretching and flexing. Additionally demonstrated to promote wound healing and reduce scarring is hyaluronic acid.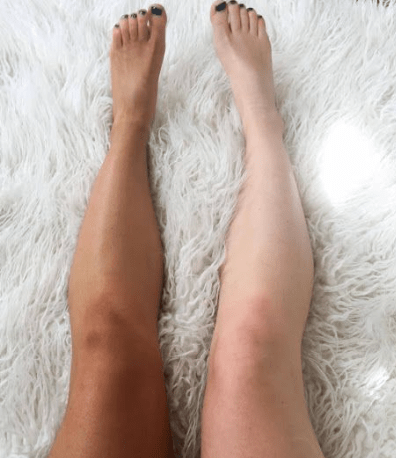 The Base Of Self-Tanners
Foam- The results from using tanning foam are lovely and natural-looking. Additionally, tanning foam might last longer than lotions and other self-tanning products. Thanks to the aerosol can's concentrated spray; you can evenly distribute the proper amount of tanner without wasting any of it.
With only one product, tanning foam may smooth out fine lines and wrinkles, soften skin, and improve overall appearance because it contains vitamins and natural elements that promote skin quality.
Spray- The quickest way to tan your skin. It is easier to cover hard-to-reach body parts while using a spray. The amount of color dispensed at one time is comparatively less, giving an airbrushed appearance.
Mousse- Mousse is the best of all the bases in self-tanners. The application is comparatively easy and feels like butter on the skin. The only problem with mousse-based formulas is that they dry quickly, making them hard to absorb.
Drops- Drops are the best formula for self-tanning the face, as you can mix them with creams for better application.
FAQs | Self Tanner For Pale skin
How to apply self-tanner?
Prepare your skin with an exfoliator 24 hours in advance for simple and easy application.
Apply a good moisturizer to your skin, paying particular attention to the dry areas.
Shake the bottle thoroughly for a beautiful result. Use the applicator mitt to apply it to your skin by applying it upwardly.
Depending on your needs, you can rinse it after an hour or after eight hours.
I wait 6 to 8 hours for the color to emerge fully. It also depends upon the brand you are using.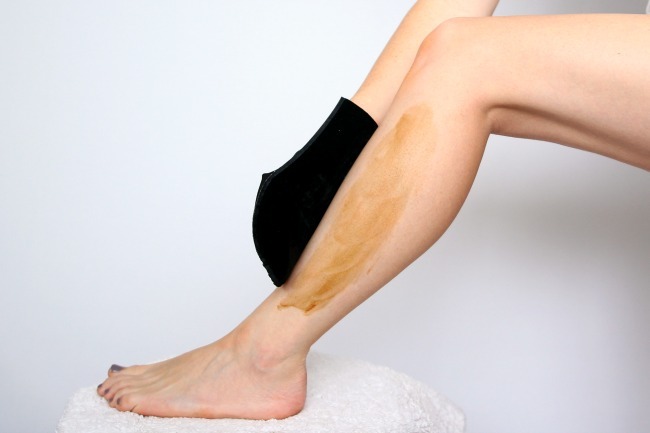 Can self-tanner cause acne?
Self-tanners might contain ingredients that can clog the pores and create bacteria build-up leading to acne and increased oil production. Use self-tanning products that are oil and alcohol-free, as they contain less risk of causing acne.
How does self-tanner work?
Dihydroxyacetone (DHA) is the primary active component in artificial tanning. This chemical is non-toxic, and when it interacts with cells in the epidermis, it creates melanoidin, a brown pigment. Your dead skin darkens during the process, mimicking a sun-kissed appearance.
Is self-tanner safe during pregnancy?
Applying fake tan lotions and creams while pregnant is generally considered safe. But since the effects of breathing spray tans are unknown, it's best to avoid them. Since DHA is an active ingredient in self-tanner, experts believe it does not penetrate past the top layer of skin; therefore, it can not hurt your baby or get absorbed into the body.
Is self-tanner better than the sun?
Your skin suffers damage from exposure to the sun, which triggers cellular changes that can become cancerous or malignant. Sun exposure causes the skin to turn red or brown, which appears as a sun-kissed look. This look is dangerous as it can cause skin cancer, photoaging, and actinic keratosis. But using self-tanners to tan is safer and better than UV light from the sun.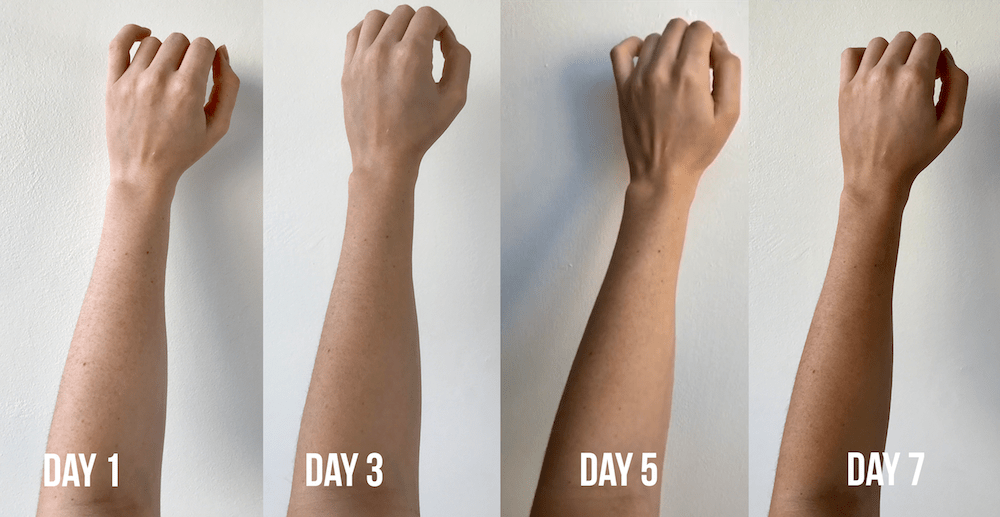 How long does it take for the self-tanner to dry?
After application, give your self-tanner around 10 minutes to dry before dressing. If you're in a hurry, using a hairdryer in the coldest setting will help hasten to dry. I generally wait around 5 minutes after fully applying my self-tanner.
Can fake tan look natural?
Everyone worries about self-tanning not looking even, but if you have applied the product in a circular motion and with patience, your tan will appear like a natural tan. I prefer using products that fade away evenly, making them appear more natural.
Will self-tanner come out of clothes?
Unless your clothing is white or pale, the self-tanner generally comes off after washing it once. If you cannot remove the tan on your clothes, dip your clothes in a bowl with detergent, white vinegar, and warm water to remove the stains.
Will self-tanner cover stretch marks?
Self-tanner helps even out skin and blurs away stretch marks. It is not entirely possible to hide stretch marks. Some tanners can make stretch marks more visible because they do not tan due to their formulation.
Conclusion
Choosing the right self-tanner for pale skin to achieve the desired tan can be manageable. Choose foam or mousse-based formulas as they are easier to apply and quickly absorb into the skin than oil or cream-based products. Mist or spray formulas are easier to reach everywhere but can become messy to apply.
Initially, when starting the journey, prefer color guide-based technology as it makes the application even, and remember that the color of the guide is not the tan color you will get.
Self-tanning should be a pleasurable experience rather than a chore. Find your best formulation and shade. Put on some music in your room and embrace the process.