Well, we're officially close to the end of the winter and entering spring. But we're all thinking about the same thing. There's a little countdown ticking off in our brains as we inch closer and closer to summer. When I say the best things that happen in summer, I mean summer breaks, bikini season, swim season, watermelon, concerts, ice creams and popsicles, and beach days, all of which come to tan bodies. Enter Neutrogena Build A Tan, which claims to offer you the perfect tan for pool parties and beaches. We came across some Neutrogena Build A Tan reviews to get a clear picture of the product.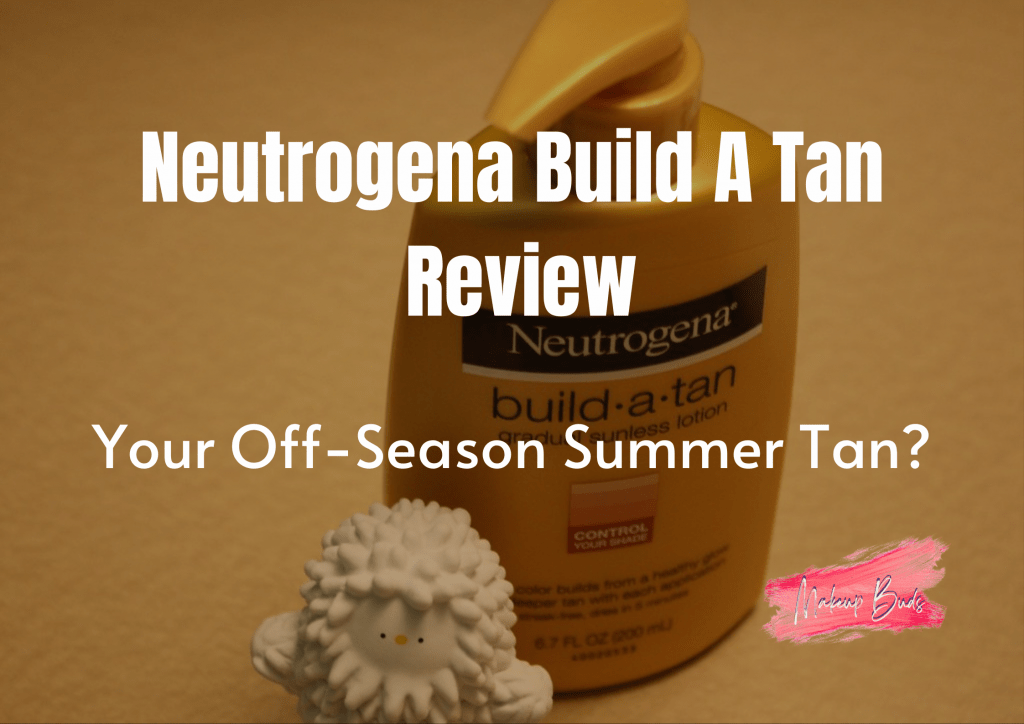 Well, you have so many questions regarding fake tans. Some even express extreme skepticism about the same, but is it that scary to try a fake tan to curb your off-season tan desires? To be completely honest with you, probably. Based on the tan company, your skills, your supplication, and how your skin responds to a tan, you can understand whether fake tans are for you. 
To make the job easier, we present a review for the Neutrogena Build A Tan- Your Summer Tan Off-Season. We would understand further in-depth how a fake tan works, its ingredients, how to use it, and user reviews, and also answer some burning questions that are constantly asked regarding fake tans. So, buckle up, and let's get started.
Neutrogena Build A Tan Reviews | Your Summer Tan Off-Season?
Neutrogena prides itself on being a 'Science-backed skincare brand' where they use ingredients and formulations that target the excellent health of your skin while also striving to meet your expectations. The company understands that various skin types and textures need to be provided with solutions, bearing in mind that the approach for each skin type may vary. 
They understand the value of educating the consumers on skin health as well. This will not only attract more consumers towards them, but if a consumer needs to make a better and more informed decision about which product to trust fully, they must understand their skin and its requirements better. They believe in adding more to your skincare while causing the least to no damage to the planet. Their products are vegan and clean for bettering your skin and the earth.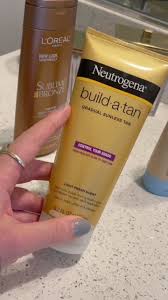 They hold immense faith in their Neutrogena Build-A-Tan, which they fondly term the Sunless tan lotion. It is a self-tanner which provides you with that natural shade of golden brown. This product isn't just about changing or adding a deeper shade to your skin; it's also about nourishing your skin from deep within. Whenever you work with any tan products, even a proper sun tan for that matter, note that all these tans are temporary. To maintain a sure consistency with your tan shade, it's essential to be regular with the application. 
However, all of this applies to most tan products. So let's understand the ingredients and depth of application regarding this product so that you can choose wisely whether you wish to invest in this product.
Neutrogena Build-A-Tan Gradual Sunless Tanning Lotion, Lightweight Self-Tanning Body Lotion for a Healthy Glow or Deep Tan, 6.7 fl. oz
6.7-fluid ounce of Neutrogena Build-A-Tan Gradual Sunless Tanning Lotion for a buildable tan you can control
Create a deep tan or a healthy-looking glow with this gradual self-tanning body lotion that is clinically proven to provide natural-looking color you can control
Sunless tanning lotion allows you to control your tan for a shade that's uniquely your own by applying more often for a deeper tan or less often for just a hint of color
Its gradual tanning formula is lightweight and delivers sheer color with each application for a natural tan without the harmful rays
Featuring a light, fresh scent with a sheer color, our self-tanning lotion dries in 5 minutes after application and develops in approximately 2 to 4 hours for a sunless tan that's easy to apply
Neutrogena Build A Tan Ingredients
Water
Well, let's start with the very basics. They say our body is 70% water; hence, this ingredient will always show its presence in almost every beauty and skincare product. As they call it in the industry, water is a universal solvent. Water helps emulsify products, too; it's added to the oil and gel-based products and mixed thoroughly to get a foam or a mousse-like consistency. 
Whenever you use any product, even though it's not mentioned in percentages, it's important to note that it is mainly made up of water. Not just that, it hydrates and moisturizes your skin. Water or aqua has the most anti-inflammatory properties of all ingredients. But as a consumer, you must remember that the more water, the more diluted the product. 
Dihydroxyacetone
Whenever you talk of any tanning creams, oils, or water, you must know that the product has dihydroxyacetone as one of its ingredients. Dihydroxyacetone, or DHA, is currently one of the industry's raging and favorite ingredients to present a tan-like appearance to its users. It is approved by the US Food and Drug Association since it carries fewer health risks than any other medium that provides the skin with a tan-like effect. 
Dihydroxyacetone is simple; it breaks down a three-colorless carbon sugar that reacts with the amino acids that are constantly present on the surface of your skin, providing a deeper brown shade. Reports suggest that DHA affects only the outermost layer of cells on the epidermis and doesn't penetrate deeper into the skin.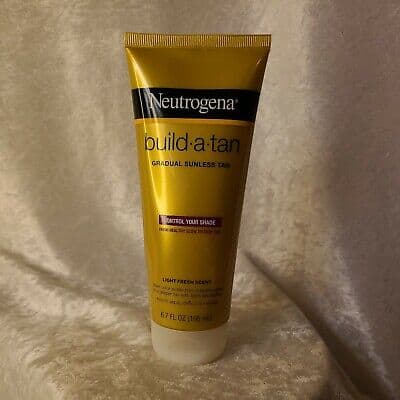 Methylpropanediol
Amidst the constant battle of whether organic products are better than synthetic ones, methyl propanediol was recognized as safe by the Cosmetic Ingredients Review Council in 2018. This ingredient mainly helps absorption; it is infused with properties that help ingredients like salicylic acid penetrate the skin and provide better efficiency. 
It also poses as a preservative in the ingredient blend, but mainly it soothes the skin and leaves a hydrated and nourished effect. Your skin will look dewy and glowy once you apply any product infused with this ingredient. This clear, colorless liquid also acts as a solvent for most products.
Glycerin
Need I say more? Glycerin is one of the most age-old ingredients we've been adding to our skin care and hair care mixes. The reason for this is that glycerin is an excellent humectant. It pulls out water from the air and helps penetrate that moisture content deep within your skin. It can also be added as an occlusive; it can help skin retain that moisture without facilitating any product in ripping the skin off any necessary hydration. It is also an anti-inflammatory, meaning it won't cause any damage or discomfort to your skin once applied.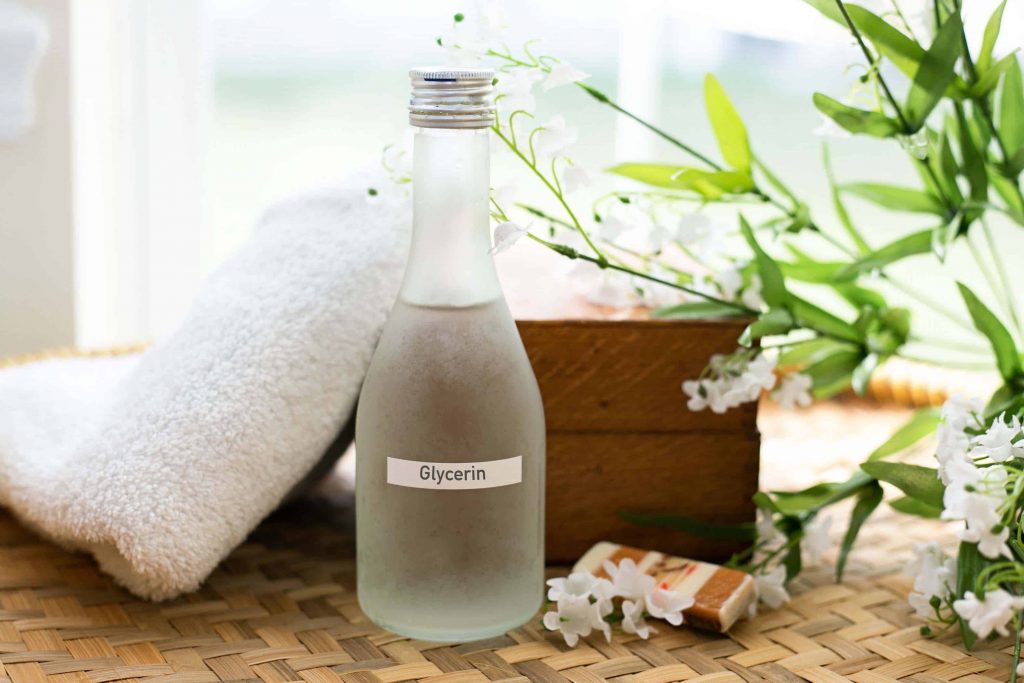 Ethylhexyl Hydroxystearate Benzoate
This ingredient can be classified as an emollient that gives you perfect hydration and moisture. This is one of those ingredients that not only helps in the formulation of the product but also helps with the constant need for smooth, even, and nourished skin. This ingredient is mainly added, amongst all others, that provide a hydrating effect because it can lubricate and hydrate without leaving any residue that may add to a tacky finish. 
Any product is effective with a minimal quantity of this ingredient, but it can be added in higher concentrations up to 18% in products. It is also added in lip glosses and hair care formulas to lock in moisture and retain it.
Directions to Apply
Swatch Test
Before applying any fake tan on the entire surface of your skin, apply a little product on one less visible skin section. Wait, and then rinse it off. Check for the color, the even application, and whether there are any signs of irritation, rashes, or discomfort before applying through the entire skin.
Cleansing and Prep
The next step is obviously to prep your skin thoroughly. The prep stage includes cleaning your skin, exfoliating to get rid of any dead skin, and simply getting rid of excess hair. This will ensure an even and beautiful application throughout.
Application
The next step is to apply the Neutrogena Build A Tan thoroughly on your skin. Before using the product, ensure that you are wearing tanning mitts to avoid getting any of the tans on the palms of your hands. You can go over patches you feel haven't received a good product.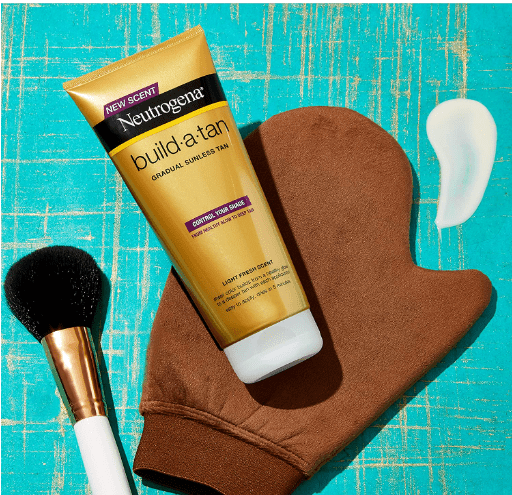 Wait and Rinse
The next step is to wait for around 6-8 hours before you rinse the product off. Make sure you don't come in contact with any surface that may stain or get dyed brown due to the tanning solution. Then, rinse the product with water and a gentle sulfate-free soap.
Reapply
Ensure that the color is consistent on your skin and doesn't fade off fast. You can return with more product after a certain period if you observe any signs of the tan fading.
Pros and Cons
Pros
Easy application and affordable

Last's for over a week without reapplication

Zero streaks

Even application and smooth appearance

Thin and clear formula
Cons
It can dry the skin out

May cause irritation and discomfort

Isn't suitable for acne-prone skin

Light scent, which may not smell the best

Splotichiness during fading
User Reviews | Neutrogena Build A Tan Reviews 
The users expressed their opinions of the product once they tried it out on the website. The ratings show positive reviews, with some slight dissatisfaction being expressed. With almost 69% of five-star reviews, the product inclines mainly towards the positive side, while there's nearly 8% of 1-star reviews are utterly disappointed with their effect. Supporting her five-star reviews, a user named 'Lori K' added, "I love this tanning lotion. It is an eventual tan. Some of the product does come off when you shower, but it lathes on very evenly with the help of a mitt. It's a nice gradual tan, and you can discontinue applying when you are happy with the color."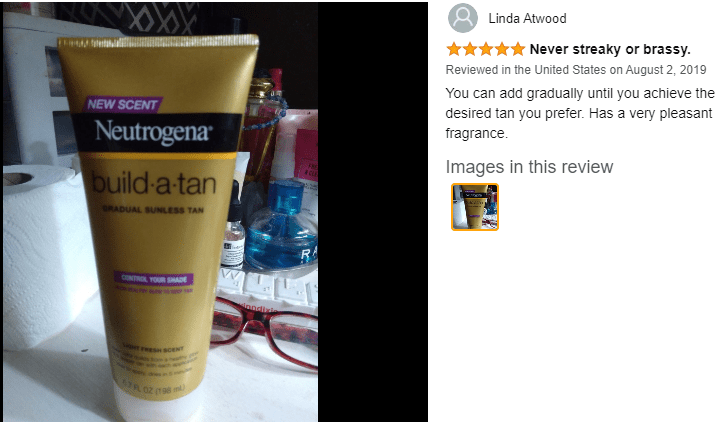 Another user who wasn't happy with the product added a one-star review as she indeed observed some side effects. "I would never recommend this product to anyone with slightly sensitive skin. Please do a skin test before applying it and wait up to 48 hours before washing it off.
I have used this all over, and now I have broken out in hives from head to toe after 24 hours. I'm already popping 2 different antihistamines, and I had a steroid shot this morning. I also have been recommended 2 steroid prescriptions, one oral and one topical. The nurse said that I might have to return for another steroid injection in at least two days. This is horrible; please do the skin test."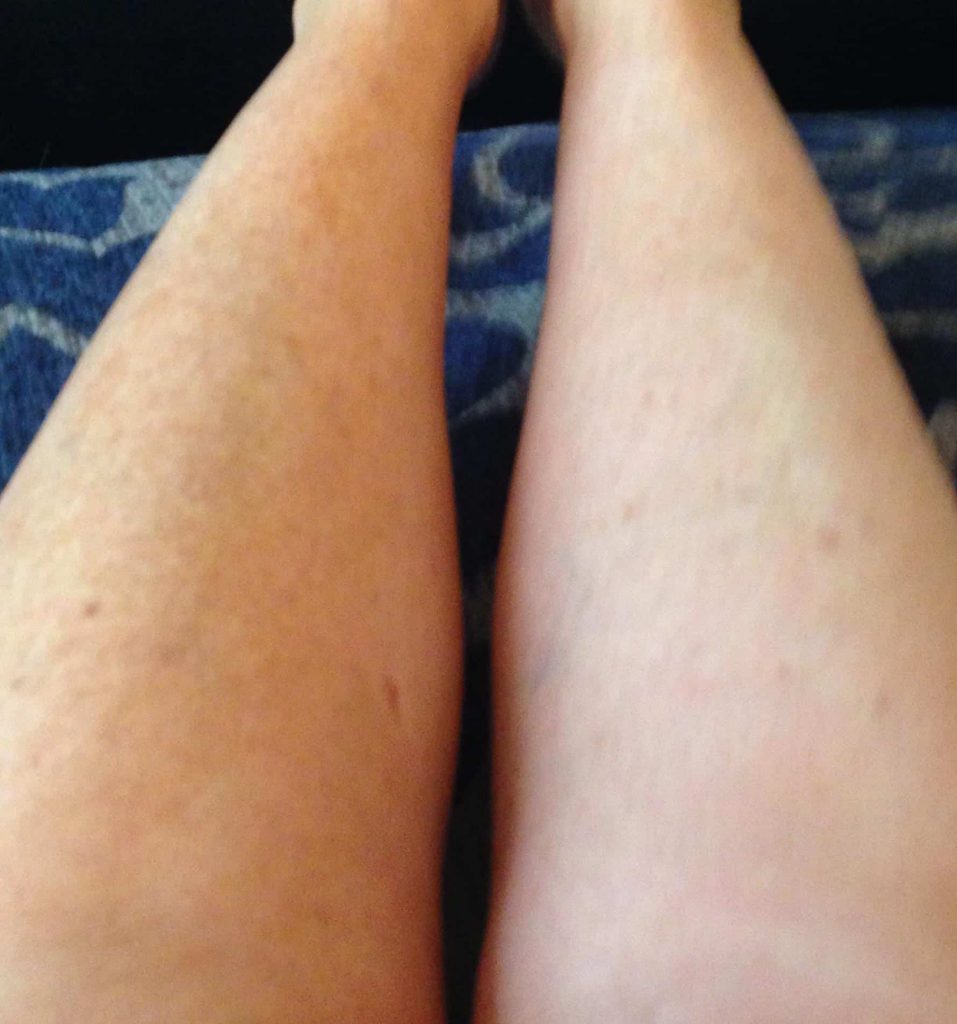 While both the reviews are contrasting, every product works differently on every skin type. It's not necessary what worked for one person would also work amazingly for you. Some products may have side effects based on your current skin condition.
Frequently Asked Questions | Neutrogena Build A Tan
How long does the Neutrogena Build A Tan last?
The Neutrogena Build a Tan is made to set for a total of two to four hours. Once it sets and develops, this product is made to last several days. Based on reviews and what the users say, their tan lasts for over a week before it starts fading.
Does Neutrogena Build A Tan stain?
There have been no reported issues with the Neutrogena Tan staining or transferring on any other product of the house. However, it's always beneficial to be safe and not come in direct contact with any object that could be stained.
How do I remove Neutrogena tanner?
There are several ways to remove the Build A Tan. However, it's essential to note that it doesn't go off immediately. These methods will help you fasten the process 
Exfoliating thoroughly with a scrub

Using Vinegar, Lemon Juice, Baking Soda

You could also go in with rubbing alcohol, acetone, baby wipes, baby oil, or toothpaste.
Final Verdict
Whenever it comes to tans, it's inevitable to forget that these are very clearly visible and last a few days. If done right, it could look better for these sets of days. But if you hit the nail on the head with the tan, you'll have a new golden-brown glow to flaunt in the off-season. 
Remember that every product isn't about its formula or effect; it also results from your application techniques. With even and thorough application, you will achieve desired results. Also, we hope that when it comes to choosing a tanner, we help you make a wise and informed decision about what product would work perfectly with your skin. So now, click pictures, wear playsuits, and flaunt that glowy skin everywhere!