In the beauty industry, the struggle to find the perfect makeup products goes on. CC creams are used to neutralize skin imperfections and even out the skin tone. Numerous CC creams provide good coverage and are perfect when you don't feel like using foundation. But have you heard of the latest innovation of 'Mushroom Head Air Cushion CC Cream'? It's the same CC cream you apply but with a new design for a different application method.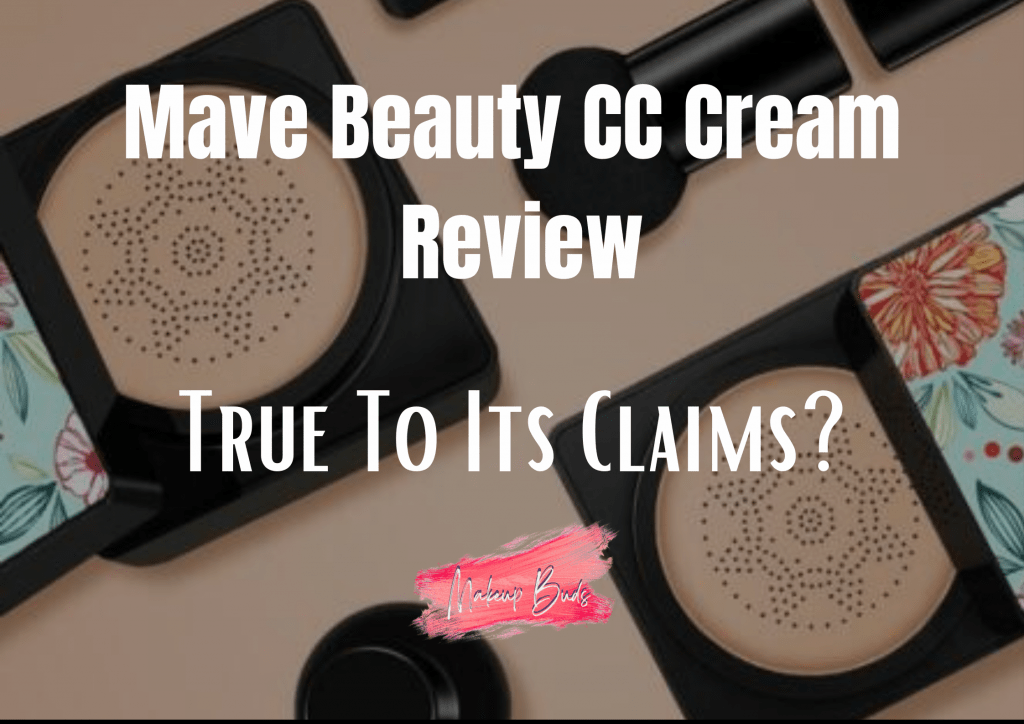 Mave Beauty has also offered its CC cream in this new mushroom head form, but is it the same as the regular CC creams? Does it provide you with the coverage it promises? What do the Mave Beauty CC Cream reviews say? Let's find out.
Mave Beauty CC Cream Reviews | Hit Or A Miss?
Mave Beauty's CC cream is the latest Mushroom Head Air Cushion type that ensures the right amount of coverage you need, be it medium, sheer, or full. By coverage, the brand claims that the CC cream covers all skin imperfections and flaws, including acne, scars, pores, dark spots, and even wrinkles. It sounds like an ideal coverage-providing product.  The mushroom head sponge is designed with different holes that give your skin an air-cover effect while retaining water and avoiding excessive amounts of the product to apply to your skin. Air Cushion CC Cream Mushroom Head, Concealer Moisturizing BB Cream Foundation, Waterproof Matte Long Lasting Bright Face Makeup Base Long Lasting Cushion CC
【Perfect Makeup Foundation 】The air cushion CC cream is moisturizing, oil control, long-lasting, texture is light and thin, breathable, hide pores, create a temperament makeup. Evenly concealing effectively covers the skin and creates a flawless look. Refreshing texture, clear and moist texture, refreshing and not oily.
【Long-lasting and Concealer】Unlike general CC cream makeup foundation, this moisturizing foundation is a perfect makeup for 12 hours or more and a good oil-water balancer. It has excellent oil control and never greasy feeling. Turn back time with this anti-aging under eye treatment concealer. Say bye bye to the look of fine lines, blemishes, redness, and dark circles, and hello to a radiant, well rested, refreshed looking face area
【Mushroom Head Puff】Mushroom head air cushion CC cream contains a stretch (Mushroom Shape) puff that makes the base make it easier and faster and will create a flawless foundation.
【Natural Plant Formula】 Air cushion BB cream Contains a variety of natural skin care ingredients, such as Centella asiatica extract, Tremella extract and so on. It also nourishes the skin while applying makeup.
【Easily Apply Makeup】 small mushroom head puff stick, when it meets water, it becomes bigger and softer, portable, skin-friendly, no dead ends and the whole process is not dirty,easy to apply.
This mushroom head makes the application process, or to be specific, the blending process, relatively easy and helps in cleaning the smudges and smoothing out the cream evenly on your skin. Worried about applying it and your skin not liking it? Well, you may shoo away your worries because, as per the brand, this very CC cream also acts as a skincare product that keeps your skin moisturized and retains skin elasticity. Let's look at the CC cream's ingredients that make it a good skincare product.
Ingredients 
Aesculus (Horse Chestnut)
Horse Chestnut contains a compound called 'Aescin,' which has anti-inflammatory properties and provides soothing effects to the skin. The horse chestnut seed oil is known for its ability to even out your skin tone and reduce the appearance of dark spots or red patches on your skin. If you go deeper into science, this ingredient works by restoring microcirculation and toning the blood vessels under the skin. It is also said to have anti-aging effects, as it slows down aging by strengthening your skin's elasticity.
Calendula 
Calendula is enriched with antioxidants, so that means you can take a sigh of relief from oxidative stress. That means your skin is protected from the damage that can be caused due to free radicals or other pollutants. As per some studies, Calendula is also said to provide some hydrating properties to your skin and maintain and protect the natural barrier of your skin. Studies also reveal that this ingredient may have the ability to increase the production of collagen in your skin while giving your skin some brightening effect as it can decrease melanin production.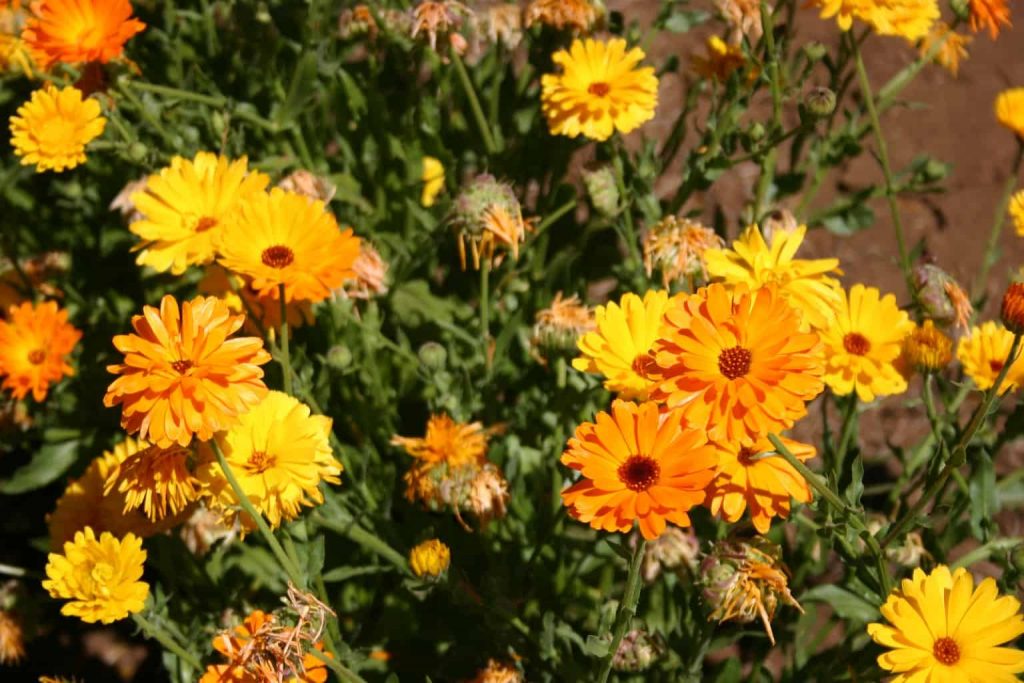 Snow Lotus
Though the name may sound very elegant, the functioning and benefits of Snow Lotuses are solid and practical. Snow Lotus naturally possesses anti-inflammatory properties, so your skin can feel blessed with its soothing effect. Be it for redness or skin irritations. Snow lotus does make your skin feel at ease and relieved. Moreover, it also can slow down the process of aging by preventing your skin from getting affected by environmental damage.
Hyaluronic Acid
If you see hyaluronic acid in any product, you should be relieved about your skin's hydration. Being the super powerful ingredient it is, it is found in many skincare products for a reason! The hydrating properties it has is almost incomparable to any other components. Good hydration to the skin also helps stretch the skin and delay the aging process as it minimizes those stubborn lines and wrinkles.
Vitamin E
The brand claims its CC cream is enriched with Vitamin E, which has become an excellent anti-aging product. This same vitamin has been used in skincare products for several decades as it is a fantastic factor that protects the skin from solar damage, leading to premature skin aging. So with Vitamin E in your product, you can expect your skin to look younger with that youthful radiance you always wanted.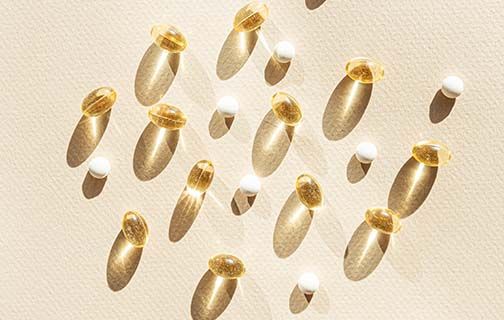 How To Apply The Mushroom Head CC Cream?
Though the design is slightly different, the application process is quite simple. The blending is done much more easily with the mushroom head sponge while oozing out only a limited quantity of the cream.
Take the mushroom head makeup brush or sponge and press it into the cushion.

This cushion contains the CC cream, which is pushed into the cushion upon pressing. The unique holes on the sponge retain the product, so there isn't much on your face.

Take the sponge and tap it on your face and areas where you feel it is required.

Note that you must tap it and not rub it along your face. While tapping, blend it smoothly so that it is evened out. 

Apply the product in the quantity you want, considering the required coverage.
Benefits
The CC cream is available in two shades that can be chosen based on your skin tone. 

Brighten, and Natural are the two shades offered.

The CC cream is enriched with prime ingredients that greatly benefit the skin.

It provides a good amount of coverage.

The brand offers a 30-day return policy if you are unsatisfied with the product.

It is waterproof as well as sweat-proof.

It can work as a makeup foundation as well.

It also has SPF 20, which protects your skin from solar damage.

Vegan.

Cruelty-free.

It does not contain any artificial fragrances.

No harsh chemicals are present.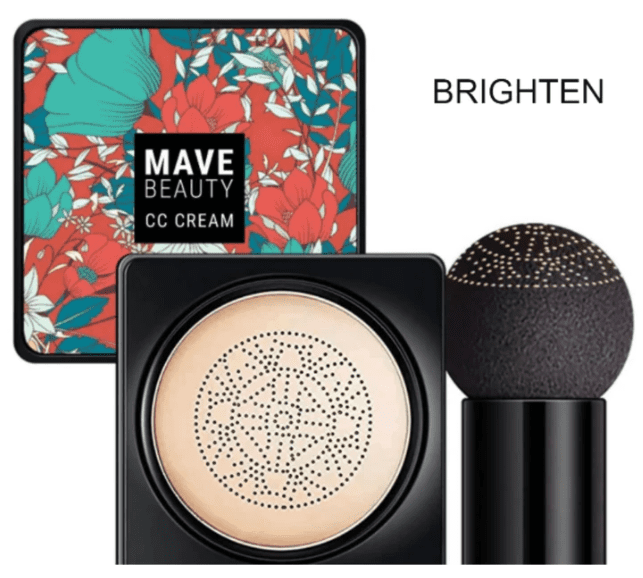 Drawbacks
It may crack and look cakey when applied under other products.

Some users claimed that it didn't fit all skin types and colors.
Customer Feedback Before & After | Mave Beauty CC Cream Reviews
There are majorly positive reviews about this CC cream; it looks a little doubtful. However, we have gathered some unbiased reviews so you can know better about it.
A Float Therapy Spa user commented, "Talking about the coverage, it does not do its job the way they show on social media. There are only two shades available. The brand recommends choosing the shade 'Natural' for darker skin tones. But in my opinion, Natural is for people with ivory skin tones. Thank god I had ordered this CC cream from Amazon and not Instagram or Etsy because I could return it and get my money back. Not that it was costly, but it is about its working. Ultimately, I would like to say that I do not recommend this CC Cream to people who consider coverage if they expect it to be how they advertise it in their videos."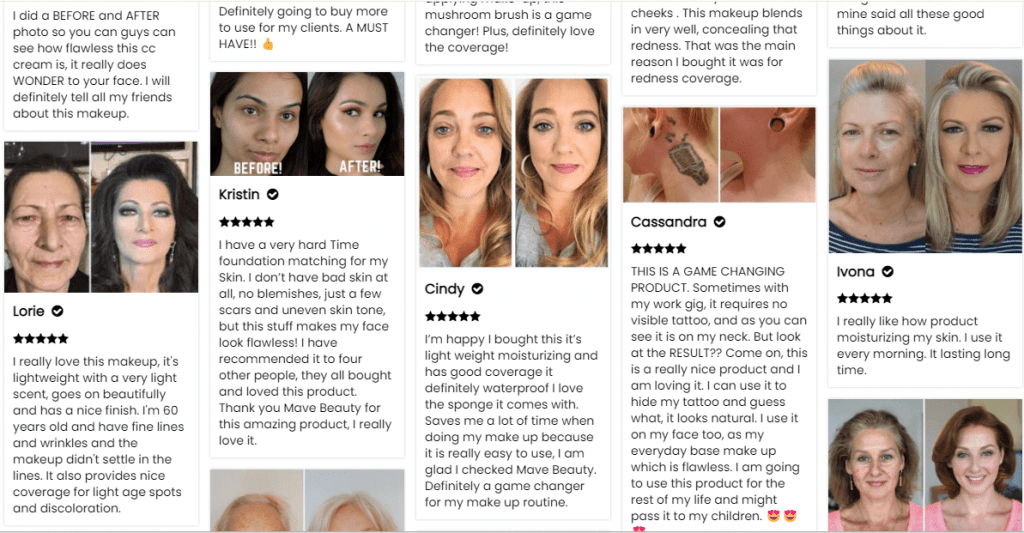 Another user, Kristin, said, "I find it very hard to find a foundation that matches my skin tone. I have some scars and uneven skin tone, but I don't have any blemishes or bad skin. But this CC Cream makes my facial skin look perfect. After loving it, I suggested it to a few other people, and all of them loved it too! I want to thank Mave Beauty for getting this product to us! Love it."
Midwest Midlife said, "I don't go crazy behind the CC Cream container because I wish it were a little distinct. However, my skin feels good applying this. Talking about the color, it conceals the red-pinkish spots and the dark circles. I use a larger applicator than this one, but it works fine. I wouldn't say it is the best product out there or the best one I have tried, but I wouldn't purchase it again, mainly because of its container. Also, the CC Cream does not cause any irritation to my skin, so yeah, that is a great point."
FAQs | Mave Beauty CC Cream Reviews
How do I find the right shade of Mushroom Head CC Cream?
Since the brand offers two shades, as per the brand, if your skin tone comes between fair and olive, then you can go with the shade 'Brighten.' However, if your skin tone is light brown to black brown, you can opt for the shade 'Natural.'
Can you use the CC Cream every day?
You can use it daily to conceal your red spots or blemishes. It even contains skincare ingredients with SPF's additional benefit of protecting your skin when you step out of your house. 
Closure
Trying out new stuff isn't always bad! With this article, we have gathered some Mave Beauty CC Cream reviews that may make you want to try it! You can try it in two shades based on your skin tone. You wouldn't need an extra blending sponge as the mushroom head sponge will blend while giving out the right amount of the product. So if you haven't tried it yet, we suggest you do so! Because this new design has been on everyone's lips and vanity bags, why stay left out? 
Makeup enthusiast? Here's more for you: