If you have ever thought you have a beautifully different glow whenever you are on vacation, then you are at the right place, as this article will help you bring that glow home. All my pale ladies would know the red flushed cheeks and sunkissed skin we are discussing. And because you clicked on the report, we are guessing you also want to not bring the sun's harmful UV rays into the equation. You may have tried self-tanning before or binged on the failed tanning attempts on the web, which is a journey through trial and error as we all run a chance of turning orange or, worse, patchy.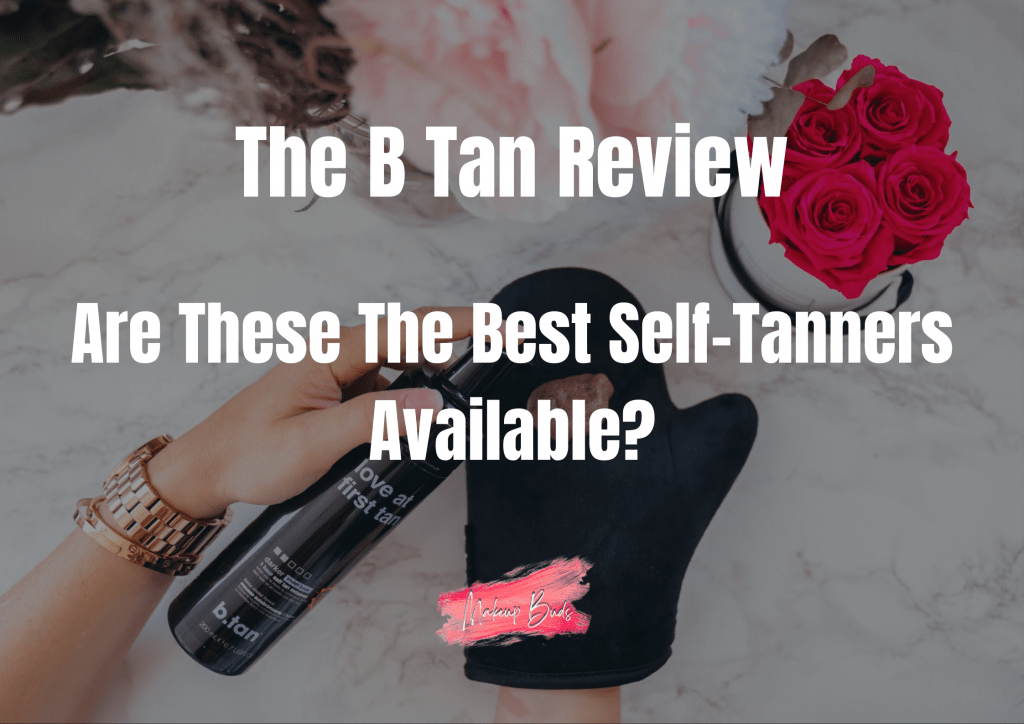 Praise the Lord, nevertheless, for the current cosmetics industry, which has dramatically improved formulae and heavily stabilized components, enabling individuals to purchase safer and more effective products without breaking the bank. Today's offering meets all of these requirements and more. And if self-tanning is your thing, you might have heard of it; if not, you're welcome to get yourself a pretty penny. Stay tuned for genuine B Tan reviews.
B Tan Reviews | Up Your Self-tan Game?
B Tan is a brand that has amassed immense popularity at the hands of its organic self-tanner range. Established in 2009, it is a subsidiary of Marq Laboratories, which has its corporate offices in Tennessee. Its extensive range of goods makes it clear that the company's mission is to make beauty delightful.
Your skin will thank you for not dehydrating and damaging it by using their paraben- and sulfate-free self-tanning products and giving you a gorgeous sunkissed hue. Their products are also vegan and cruelty-free, which their consumers are most proud of, knowing that what they put on their skin is safe and humanely sourced. Every component is ethically sourced and produced, and the packaging is built from recycled materials to be repurposed after use, furthering the noble cause of sustainability.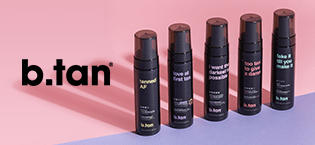 You can build your self-tanning collection to achieve a flawless bronzed look with the exquisite range of mousses, gradual tans, face tans, mists, and tanning mitts available. This article will concentrate on a DHA-based tanning mousse product line. Dihydroxyacetone, often known as DHA, is a form of carbohydrate obtained from plant sources that stain the appearance of dead skin cells by interacting with the amino acids in those cells. Instead of exposing oneself to risky UV rays, this is a far safer option.
This line has five products, ranging from the lightest to the darkest tan, to accommodate people of all skin tones and self-tanner experience levels, from a self-tan novice to a seasoned pro. Also, we know how much you hope to see brown when you tan and not to look like an Oompa Loompa. But there's no need to fret since the B Tan products in store are violet-based to cancel out orange tones for skin to achieve a neutral brown tone.
The products are also irritant-free, making them suited for various skin types. Still, if you're unsure, you can always check out the complete ingredient list on the official product website, which is a testament to their transparency. 
Pre and Post-tan Rituals You Must Follow
No matter how much or how often you tan, it is always good to be reiterated the steps you need to include in the process and essential aftercare to achieve optimal results. 
Exfoliation is essential before tanning since you don't want to layer on clogged pores, which is a surefire way to get breakouts. Use a washcloth, exfoliating scrubs, or masks for thorough skin cleaning.

Before application, fully dry your skin.

To cover the area uniformly, the tanner should be applied in parts and worked your way around in circular motions.

If you use your hands, product application in each section should be followed by washing your hands with soap to avoid colored palms.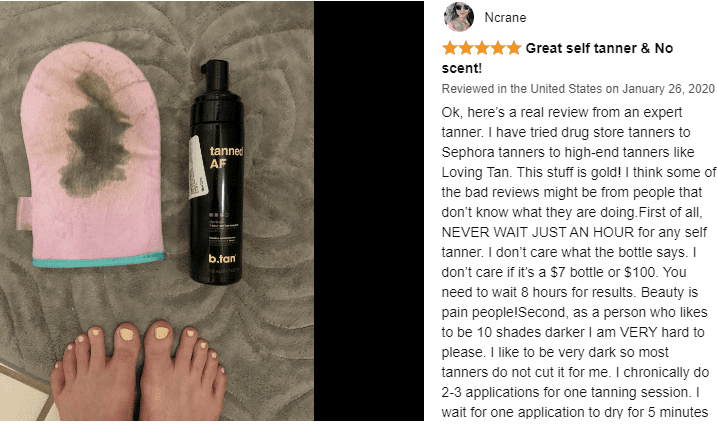 If you want your tan to be as even as possible, you should dilute the mixture at your joints or any other area of your body that stands out as darker than the rest. For the most natural appearance, incorporate it into ankles and wrists.

Let your skin dry before dressing, and choose loose-fitting clothing to prevent perspiration for however long you intend to let your tan develop.

Sunscreen is crucial whether you tan or not; therefore, wear a broad spectrum SPF 30 or higher sunscreen daily. You can also use a lotion after tanning spray for a smoother skin. 
Fake it till you make it
The product in line with the lightest tan, Fake it till you make it, aids in getting past the pearl-white winter. It is also excellent for those just starting with self-tanning who are looking for something that is not too difficult or dramatic, doesn't significantly alter their appearance, but still provides them the confidence boost they need to move forward. A natural dark tan goes well any time of the day and will suit almost everyone with varying complexions and personal style choices. 
Love at first tan
Now that you have graduated from being a self-tanning newbie and want to get your hands on a darker shade, Love at first tan is your product. And a bonus is that you will never have to worry about looking orange. This violet-based, one-hour self-tan mousse eliminates orange undertones and gives you the desired brown tan.
Tanned AF
It's no accident that Tanned AF is in the midst of our selection; this is where the tanning game ramps up, and your appearance changes dramatically. An excellent choice for people who routinely tan and have become desensitized mainly to lighter tints. Also, due to the balance that it achieves, this product has become the most well-liked and highly-sold sold item in the catalog, so if you've been feeling a little experimental lately, this could be your cue.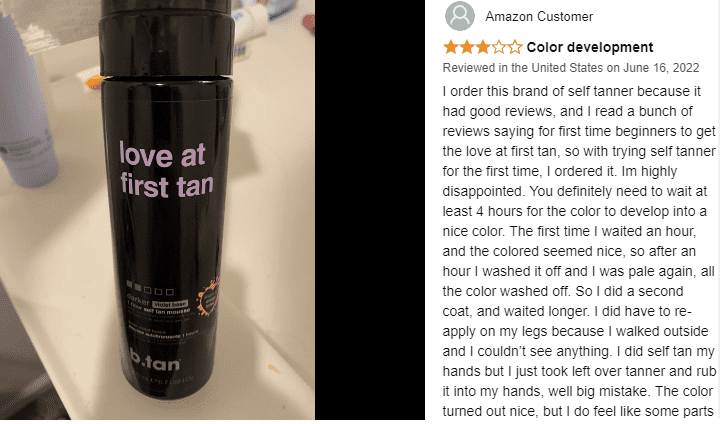 Too tan to give a damn
And it appears we will continue to get increasingly darker tans with the shade Too tan to care. Yet since it comes in second place behind Tanned AF in terms of popularity, it is interesting to highlight that people enjoy their tans and like them in darker tones than you may think. And why should they sacrifice when they can accomplish that without going outside in the hot sun?
I want the darkest tan possible
I don't know about you, but we really enjoyed the quirky names that all the products had, but now is when it comes down to business. Everything you need to know about this product is contained in the name. With the shade, I want to get the darkest tan possible; you will break all the rules of how tanned one can be. Whether you are on your way to a tropical trip or your brand is social media influencing, and a sweet dark tan is your best shot, you can try this product.
Advantages 
While the positive aspects of these items are scattered across the whole post, we have gathered them all in one spot for your convenience.
100% cruelty-free and vegan.

Recyclable packaging.

Free of sulfates and parabens.

Development time is one hour; however, you may leave it longer to obtain darker hues.

It can be applied to both the face and the body.

A tan with a violet undertone to counter oranges.

The list of all the ingredients is accessible.
Disadvantages
Even though B Tan is quite popular, which may make the unfavorable reviews seem inconsequential, it is crucial to understand how and why the product fared poorly. These are some themes that frequently appear in bad reviews.
Several folks found the darker ones insufficiently tan and no difference in the lighter ones.

In many circumstances, it washed off readily.

Several people found the smell to be intolerable.

Oxidation occurs due to unstable ingredients.

Incompatible with delicate skin. A few occurrences of breakouts, redness, and blackheads.
Customer Feedback | B Tan Reviews
Although B Tan used a clever influencer marketing technique to advertise their goods, they must do something right for their products to have received an average Amazon rating of 4.4 out of 5 from more than 19000 verified buyers. Also, it receives excellent reviews on the product's official website and websites for beauty retailers like Ulta and Sephora. For you to make a definite judgment, we have included some favorable and relatively few unfavorable—yet still pertinent—customer reviews. 
Our first reiview is from a tan technician who says they love B Tan as a quick and easy alternative. Now that is quite a statement from the professional herself. In her own words, "This is a game-changer for me as a spray tan technician and a frequent tanner, I have to admit. It's not always convenient or easy to set up my spray gun and tan, and spending too much time in the sun or a tanning bed can result in significant skin damage and early aging. I was hesitant and a little concerned.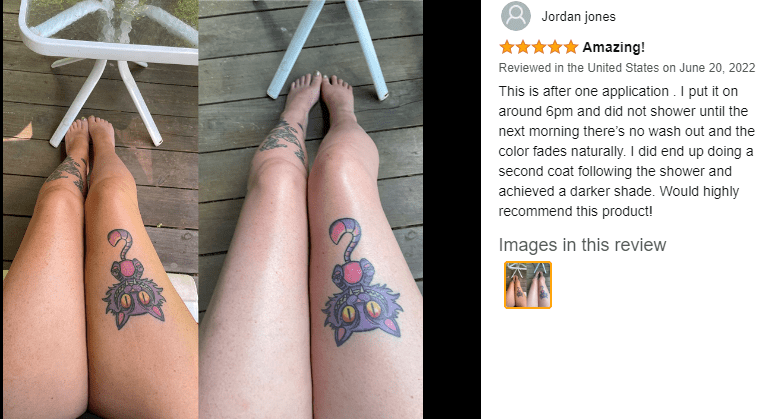 I was pleasantly delighted by this product and will include it in my regular ordering. The beautiful color has no unpleasant fragrance and is not overly sticky. I bathed and exfoliated. I wore some loose-fitting pajamas after putting them on with a tanning mitt. I dozed off in it and then washed up the following day. No orange color, no streaks. I'm overjoyed with it."
Another happy customer, Annie, also shares a satisfied experience: "Such a natural appearance! I am quite pale because of my Irish descent. I felt I should return to faux tanning, but I couldn't afford spray tans after my boyfriend's mom grilled him on why I looked Extremely white on one of my visits. I like that I can do it at home, and this choice is more economical. If anything, there are significantly fewer streaks with this than at a spray tan shop. I may continue using this shade even if it's not as dark as I would prefer after overnight application because it looks so natural and glowy."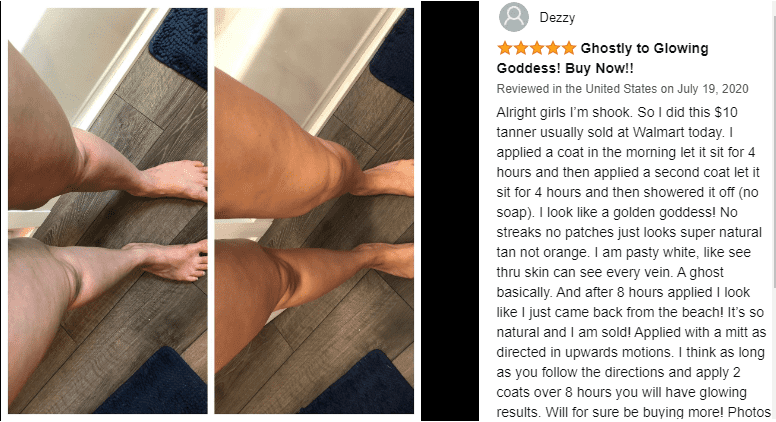 And one verified buyer claims B Tan to be her favourite self tanner on the market. She mentions, "In my opinion, and I have tried a lot of different brands, this is by far the best one for self-tanning. My favorite of their products is Tanned AF since it applies smoothly, doesn't smear, dries quickly, doesn't dry out my skin, doesn't smell like nasty toffee, is the perfect shade of tan with no orange undertones, and doesn't settle into every flaw on my face as the other ones do."
However this buyer mentions a far from ideal situation as the product quickly became unusable for her. She says, "I've used sunless tanning products for a long time, and this is by far the worst. Either the product wasn't stored properly (in a cool spot out of the sun), or it was simply old and had been lying on a shelf for months; oxidation has occurred, and air has entered the product, which is why it appears green in color. Products for sunless tanning only last six months, which is a shame. Don't throw your money away. A major letdown."
FAQs | B Tan
How long do you leave B tan on?
Following the application of B Tan mousse, you can wait an hour before showering. You can let the tan develop for four or more hours if you want a deeper shade.
Can I leave B tan on overnight?
You sure can go for an overnight tan like many B Tan customers. For optimal effects, ensure the tan is dry, you're not wearing tight clothing, and you don't perspire excessively while it's on.
How often should I apply B tan?
You can go for one of B Tan's gradual tanners daily to keep your skin moisturized and accentuate the color to preserve your tan for as long as possible. But if you want to go with the tanning mousse, the generally recommended once-a-week frequency should work fine for you.
Closure | B Tan Reviews
It is important to note that there is no such thing as a one-size-fits-all approach when it comes to beauty treatments. You should never let anyone else's opinion or judgement deter you from feeling beautiful and caring for yourself in the ways you see fit. Ultimately, if you have decided to embark on a self-tanning journey, remember that the key lies in active skin care and sun protection. 
We hope that we were able to steer you in the direction of a fantastic product that might have spared you the time and expense of searching through millions of items with various ingredients and price point.  Additionally, pay close attention to instructions and application tips to ensure you get the best results possible. We hope you have a glorious day ahead. We appreciate your visit.