Money can't buy happiness, but it can buy you Loeffler Randall, which is pretty much the same! A new world of fashion is afoot, and we are sure luxury heels, precious jewelry blings, and effortless totes will be a part of everyone's quotidian wardrobe! Loeffler Randall is about creating sparkles with its beauty edition, which speaks of exemplary fashion.
While the brand's wide range of must-haves has been raising the beauty stakes and surfacing timelines all over, people are worried they might have to rob the bank to bring these luxury items home. We have managed to hunt down similar Loeffler Randall dupes that have been popping up everywhere.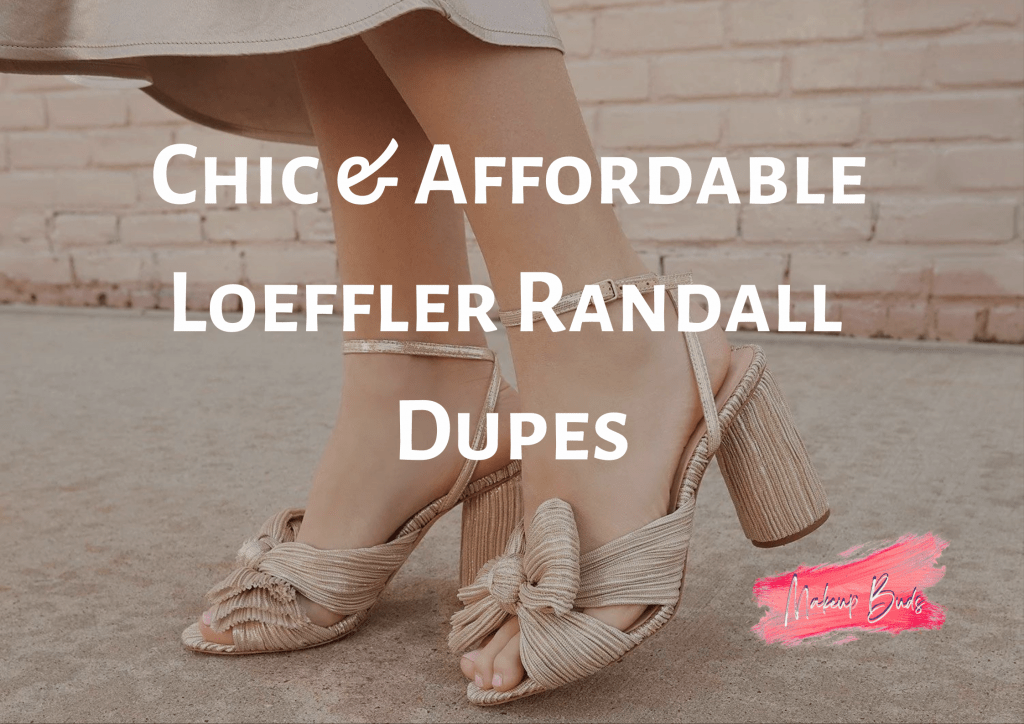 The carts and wishlists of people have been flooded with an endless list of products from the brand, which suggests that everyone seems to be crushing on its statement pieces. Here to unpacking all the glitz we have collected so far. Below is a detailed list of 11 key takeaways from the designer's office that you can't have enough of! 
Loeffler Randall Dupe
Every brand has a signature collection, and this brand continues to impress users with its springy heels! The obsession with shoes, or the obsession with Loeffler Randall Camellia Heels, has got everyone under its spell. We know we are! All its heels have an iconic swoosh for a happily ever after for your feet! Thanks to their Pleated Lamé & Fabric, which are incredibly delicate yet add a bling to your heels.
You may ruin your designer shoes quickly, but not these! According to users, they found these sandals so breathtaking that they wanted to preserve them in perfect, faultless condition for all the seasons! Apart front these, their contemporary jewelry frames, furry slings, sequined totes, and ruffle skirts have also taken the internet by storm!
Loeffler Randall is an expensive delicacy everyone wants to taste, but only a few can afford to order! The sky-high prices keep people from going on a shopping spree at this store. However, this need not be the case anymore. Given below are 11 budget-friendly edits that users approve. These options clearly express why you need to ditch those luxury products and turn to affordable options that look similar! 
DREAM PAIRS
Women's Low-Chunk Low Heel Pump Sandals
We know you are a sucker for Loeffler Randall, so we brought you the DREAM PAIRS Women's Low-Chunk Low Heel Pump Sandals, which mirror the original to a great deal. It is a dupe of the Mikel Champagne Bow Mid-Heel Sandal and possesses a similar build. If you are in the mood for some dressier moments, this glittery glam heel is a work of art. Sitting brings you a little added height and elevates the beauty of your outfits in seconds.
Like the real thing, this also possesses a heel height of 2.25 inches, so you feel confident about yourself no matter where you are headed. The humble platform high heels are not so high that you feel like you are in the sky and not so low that you think underground. They strike the perfect middle-ground balance, so your show collection has nothing to worry about! 
Perks 
It has a comfy TPR rubber sole

It has over 8k reviews on Amazon 

Possesses 2.25 inches of height which is similar to the Mikel Champagne 

It has an open-toe heel like Loeffler Randall 

Vegan-friendly composition 

It has a padded footbed made from latex for extra comfort 

Perfectly suitable for

parties, prom, nightclubs, performances, and daily wear.

Adjustable ankle buckle for more substantial support 
Drawbacks 
Your feet may hurt a little because the back is awkwardly high. 
Vivianly
Women's Lace Up Chunky Heel Sandals Strappy Straps Ankle Wrap
When it comes to fulfilling our footwear fantasy, all women love themselves with a barely-there silhouette that accentuates their curves and brings life to their vibe. Strap ons, and lace-ups, like the Vivianly Women's Lace Up Chunky Heel Sandals Strappy Straps Ankle Wrap, are a perfect minimalist choice for you if you're looking for a dupe of the Prisca Champagne Strappy Wrap heel from Loeffler Randall.
Mimicking the looks of Loeffler, the heel features a minimum strap knot design, which makes your appearance stunning. The lack of coverage makes this heel option all the more irresistible. The open square toe ensures your feet get enough breathing space and do not sweat while walking for long hours. Users loved this chunky piece so much that we bet you will wear these strappy heels the following spring and the one after!
Perks
Comes with a rubber sole

made with superior quality PU leather insole.

It gives you an impressive height of 2.75 inches, 

The soft padding ensures stability while you walk

Lacy nude straps to give an edge to yoru whole ensemble 

Secures the footing 

Perfect to wear during all your happy hours

Square open toe low block heels just like the Prisca Champagne from Loeffler 

Feels comfortable standing all-day

Suitable for office hours, night outs, and all occasions 

Skin-friendly and non-irritating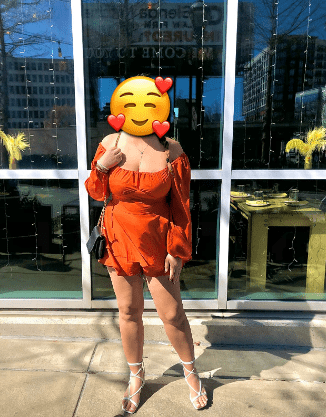 Drawbacks 
Its color is nude, whereas the Loeffler has a hint of champagne on its body. 

The knot straps might feel tight at times. 
Women's Bow Knot Heeled Sandals Bridal Wedding Open Toe Ankle Strap Chunky Heels
Like others, if you are madly in love with the Loeffler Randall Camellia Dupes, this heel from Vetaste will quench your undying thirst! Reviews have it that the heel looks like a photocopy of the Camellia Gold Pleated Bow Heel, with its chunky golden body. The body features a magnificent bow, wrapped up neatly, with a topping of gold lame, and upscales your mood at any given hour of the day.
The padded insole is painless and claims to sweep off all your tiredness. With an adjustable buckle ankle strap, we are sure this edit will give you some gold heel inspo! Unlike a standard stiletto, these are a tad bit easier to walk in without feeling your spine cracked up. However, your choice requires high maintenance. Avoid crushing the pleating, sunlight, and abrasive metals to keep your Cindrella shoes in perfect condition. 
Perks 
A ten-on-ten replica of the Camellia Gold Pleated Bow Heel

Has various sultry shades to choose from 

The footbed has a padded insole 

Pain-free throughout the day 

Chunky metallic heels 

Perfect to wear to a wedding 

Adjustable buckle ankle strap

It has lines of gold running all along the bow, like the original 

Possesses an irresistible pleat bow fabric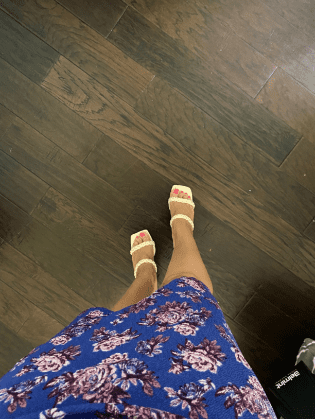 Drawbacks 
Requires a lot of maintenance 

Edges of the bow may shrink or curl up after some wear, so you might have to trim it seasonally. This might reduce the sandal's glam.
MUCCCUTE
Women's Bow Knot Heeled Sandals Ankle Buckle Strap Chunky Heeled
This Loeffler Randall Dupe White is all hearts, giving you the impression of the Camellia Pearl Pleated Bow Heel. The best part is that you don't have to spend a lot of bucks to get this! Featuring an elegant design, these pair of block heels smell of simplicity from every angle. Revive the pep in your step with these luxurious-looking pairs, as the intimate design comes with an open toe and can be worn on many occasions.
The buckle strap gives your outfit a laid-back look so that you can dazzle that party in your new pumps or plan for the following wedding guest attire without compromising on your feet's comfort. Take on, or take off. You won't waste any time in either. These blocks are the season's most show-stopping heels, and we are sure you would love to get your hands on these ASAP. 
Perks 
Specially imported and has a rubber sole

It has a fashionable bow in a pleated manner 

Quenches the need for all your glamorous events 

Easy to put on and off in summer as well 

It makes you feel comfortable switching back and forth 

It has a wide range of different colors to choose from 

Does not let your feet slip or slide out while being sweaty 

Chunky 3.5 inches high heel 

Amps up the whole appearance with sophistication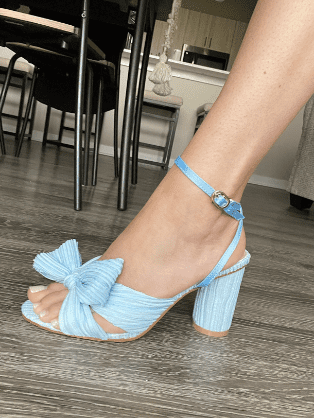 Drawbacks
The ankles traps may be too tight for some people. 
Bapolee
Women's Bow Heels Wedding Sandals Shoes Chunky Heel Cute Pleated Open
Have you been dreaming about the Reed Pearl Pleated Twist Heel from Loeffler but aren't willing to spend a fortune? Brace yourselves for the Bapolee Women's Bow Heels Wedding Sandals Shoes Chunky Heel has entered the footwear industry with a star-studded glam! The 3.5 inch is similar to the of 3.9 inches of these heels, giving you a sky-high platform height because we all know nothing brings joy like a good pair of high pumps!
The anti-slip rubber sole ensures you get a sturdy space to walk, attend a beach wedding, or indulge in sea sports. The cute yet flirtatious bow adds all the finishing touches to this heel, which amps up the entire vibe. Many happy customers revealed they were ready to get all dressed up and try on their new pairs. Because if there is any perfect vacation shoe, it is this one!
Perks 
Designed with vegan-friendly silk 

These high pumps provide your feet an arched support 

Imported and have an anti-slip rubber sole 

Compliments every outfit in your wardrobe 

Perfect idea for a gift to a friend 

Effortless to put on and off 

Features a classy buckle design 

Suitable for hopping, walking, going out, beach weddings, sea sports

Lightweight, so they are easily portable for your vacations 

It gives you almost 4 inches of heel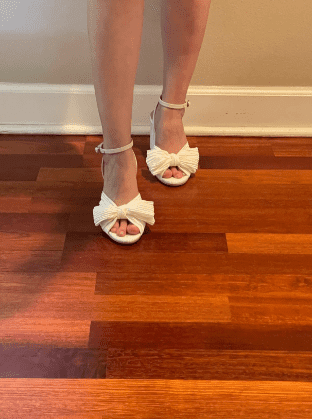 Drawbacks 
The front sole is thin and may cause aches after a while. 
Mattiventon
Flat Slide Bow Sandals for Women Open Square Toe Slip-on Mules Dress
Go easy on your legs this fall, and remove that bulk of extra weight from your favorite heels. We all love that extra length, but it's high time you stay away from closed-toe caged shoes and get an easy slip-on! Flats sandals are a staple and give your feet countless moments of comfort. The Daphne Blue Bow Slide from Loeffler is gorgeous to look at, and what's even more attractive is how the Mattiventon Flat Slide Bow Sandals for Women Open Square Toe Slip-on replicates the real thing for a low price.
Like the original, this flat has a padding of a gold stamp and a body of cute city-slick powder blue bow that looks ethereal like pixie dust! Whenever users wear this in public, they receive a stylish glow-up comment about their outfit, and we do not doubt it. If you want this for yourself, you are just some clicks away, for time is ticking!
Perks 
It perfectly mimics the look of Loeffler Randall Dupe Blue

It has been designed with faux leather

It has a rubber sole that has enhanced durability 

It offers excellent flexibility while wearing 

Allows free traction 

Pleated bow-knot to revamp your mood

Open toes give your toes ample space

Easy to wear and take off

Feels very lightweight 

It has three different shades in total 

Perfect for all hours of the day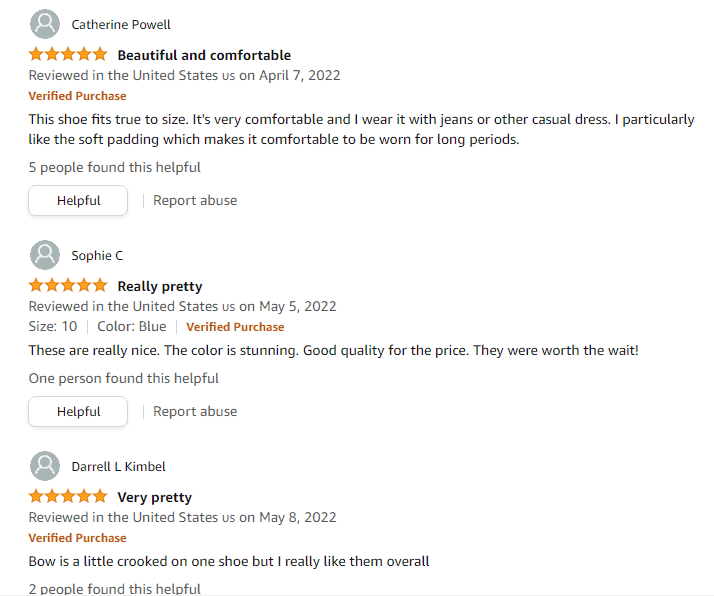 Drawbacks 
The fabric is a bit stiff and feels uncomfortable. 
Mogor
Women's Triangle Bling Glitter Purse Crown Box Clutch Evening Luxury
The craze for everything sequin, shiny, and sparkly started long back, and people are still overwhelmed with the trend. So if you feel like getting your hands on something glittery like the bags and frame pouches from Loeffler, we suggest you start thinking about the Women's Triangle Bling Glitter Purse Crown Box Clutch Evening Luxury from the brand Mogor on Amazon. It is available at a meager price and fulfills the purpose of standing out from the crowd.
This soft tote is about pampering yourself in some girly territory and reenergizing your whole appearance. The bag is made of individual sequins, where each rhinestone has been studded with care and shines to illuminate your aura. Stuff all your essentials like keys, lipstick, or your favorite touch-up compact, and give yourself from the heaviness of a bulky bag! 
Perks 
It comes in different color ranges to choose from

Designed with fabrics, crystals, and rhinestones 

It has a polished finish of aluminum and sequins 

It gives your outfit a touch of luxury 

It can hold all your essentials like sunglasses, keys, makeup, etc

Available at a super affordable price 

Compliments for different occasions like social gatherings, weddings, or prom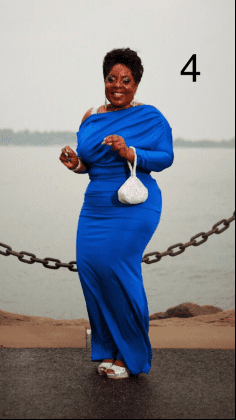 Drawbacks 
The bag is too small to hold anything properly. 
Ayliss
Women Straw Handbag Mini Summer Beach Rattan Tote Bag Cross
body
Everyone is drooling over the Mackenzie Timber Brown Crossbody Tote from Loeffler, which costs about 200 dollars, but no one is willing to pay! So we sought something that everyone would want! The Ayliss Women Straw Handbag Mini Summer Beach Rattan Tote Bag Crossbody is a wallet-friendly alternative to the original and gives you a similar appearance.
You may be missing out on brown women's leather, but this crossbody rotation makes it up to it, with its intricate detailing of straw that has been put together to give you this beach-escape essential! Sling it on one side or using it across your body, the bag will hold everything for you! If you wish to refresh your summer wardrobe at an economical price, this bag is your best bet! You can also include some embellishments or a funky keychain to your bag and spice things up!
Perks 
A perfect option for your beach days, shopping, hiking, camping 

It gives you a bohemian feel

The upper body is designed with

pure handwoven straw material

Features exquisite artistry 

It has a drawstring to secure your belongings 

Can be given as a present 

It has two colors, khaki, and beige 

It has a top handle for a comfortable grip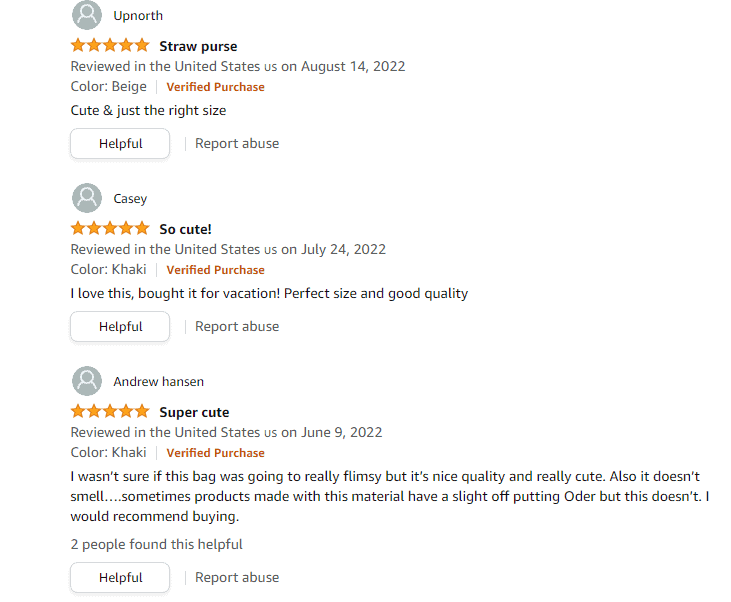 Drawbacks 
The bag does not have any zipper, which is inconvenient.

It may feel a little stiff to hold sometimes. 
FHQHTH
Faux Fox Fur Purse Fuzzy Handbags for Women Evening Handbags Al alloy
If you are secretly crushing on the Zahara Blush Mini Feather Pouch from Loeffler Randall but can't commit because of budget troubles, we have something to soothe your aching heart! The FHQHTH Faux Fox Fur Purse Fuzzy Handbags for Women Evening Handbags Al alloy is all set to ease your wallet, with its premium faux fur and satin body that looks just like the real thing.
This bag, too, features soft feathers and boasts everything you would want in your furry sling bag. The gold chain straps are made from pure aluminum and complete the bag's appearance in a chic finish. It will hold all your must-haves and still function as your little travel pouch. When we asked users how they felt about getting this as an alternative, they revealed that they had been crushing on it for a while. If we know anything, this bag will be everywhere this fall! 
Perks 
Made of high-quality faux fur, and polyester satin

It has a chain strap that is designed with 100% Aluminum Alloy

Aluminum alloy won't rust, so it has enhanced durability 

Perfect gift for birthdays, holidays, housewarming

It comes in a plethora of various colors 

Incredibly fluffy and soft 

It comes with a secure zipper 

It is safe to be blow-dried and combed 

You can also press it if you want

Dazzles up your entire outfit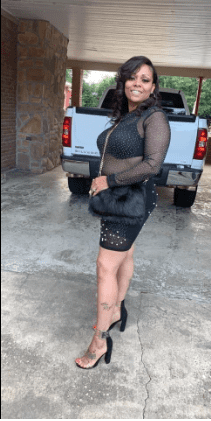 Drawbacks 
It will break if you overload it. 
PAVOI
14K Gold Colored Lightweight Chunky Open Hoops | Gold Hoop Earrings for
According to Loeffler Randall Dupe UK reviews, the PAVOI 14K Gold Colored Lightweight Chunky Open Hoops | Gold Hoop Earrings bring back your love from gold hoop earrings that add a statement look to your outfit whenever you step in them. The best part is that they are similar to the Adeline Gold Mini Dome Hoop Earring from the luxury brand but are available at a price you can take home without feeling guilty.
Hoop earrings are a timeless classic. They are the hottest piece of jewelry you can own! These gold pairs have attracted a massive rating of over 39k reviews on Amazon and claim to get you going for every occasion. Pair these with tailored trousers and some strappy heels for a formal office brunch or a casual day out. You will be good to go! These are a little bit plus size compared to the original but still do a captivating job. After all, the bigger, the better right? 
Perks 
14k gold plated

Features a stylish, and on-trend design 

The earrings are hypoallergenic 

It has over 39k reviews on Amazon

Keeps your skin's safety intact 

Nickel and Lead-Free with Stainless Steel Post

The product is crafted with 100% recycled materials 

Long-lasting gold plating

Users can wear it every day 

Believes in being carbon-neutral 

It amps up your look in seconds 

Mimics the body of Loeffler Adeline Gold Mini Dome Hoop Earring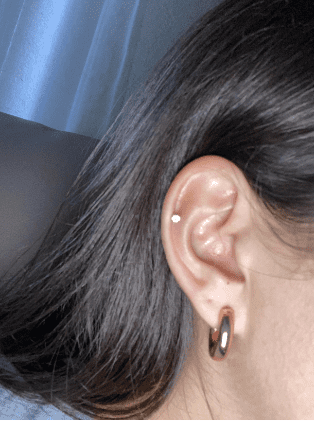 Drawbacks 
It may feel a bit heavy at times. 
FAMARINE
14K Gold Plated Chunky Small Hoop Earrings, Dainty Mi
nimalist Open Hoops Earrings For Women Gift
Hoop earrings are, without question, a go-to in one's beauty arsenal. So to think that you can't have one because it is too expensive is just downright cruel! Thanks to the courtesy of the FAMARINE 14K Gold Plated Chunky Small Hoop Earrings, you need not worry about looking perfect! What we loved the most about it is that it can be given as a minimalistic gift for your special ones!
The pair gives you a fashion-forward look and comes with a 14k plating of gold. You just have to take care of a few things to keep its luster intact. Remember, you cannot wipe the earrings with just any cloth. All users must avoid sunlight, humidity, and extreme room temperatures. So if you want to style them daily, make sure you know the drill!
Perks 
It never goes out of style 

It matches all yoru outfits seamlessly 

Lightweight, lead-free, nickel-free 

The earrings feature post fittings, which are easy to wear even if you have piercings 

Feels comfortable and safe 

14k gold plating 

It gives a more feminine vibe 

Available in more colors and shapes as well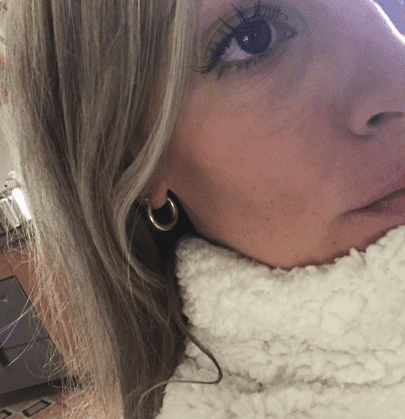 Drawbacks 
It cannot be wiped or polished with rough clothes, as it will wear out the gold plating. 

It has to be avoided from humidity, sunlight, and high temperatures 
FAQs | Loeffler Randall Dupe
How do Loeffler Randall shoes fit?
According to influencers' reviews, the shoes fit your feet like a glove! The fitting is so seamless that you would think they were made especially for you alone! The pairs give you a comfortable feeling without causing pain or blisters. The arch of the heel is positioned at the very back to match the angle of your natural heel, which takes the game to another level. The shoes won't lose up over time and claim to be walkable. 
How to clean Loeffler Randall shoes?
To preserve your luxury shoes in the best condition, give them some TLC! The boots are made of a particular fabric called pleated lame, which is super delicate. The brand makes it clear that to store your shows in perfect condition, keep them away from direct sunlight, untouched by abrasive materials, as they may snag the fabric and ruin it.
The pretty knots may fray with time, but you can carefully snip them in front of the edges. Also, don't store your shoes in tight spaces, as it may crush them. Follow these simple steps, and the brand claims your shoe will look like it just arrived yesterday.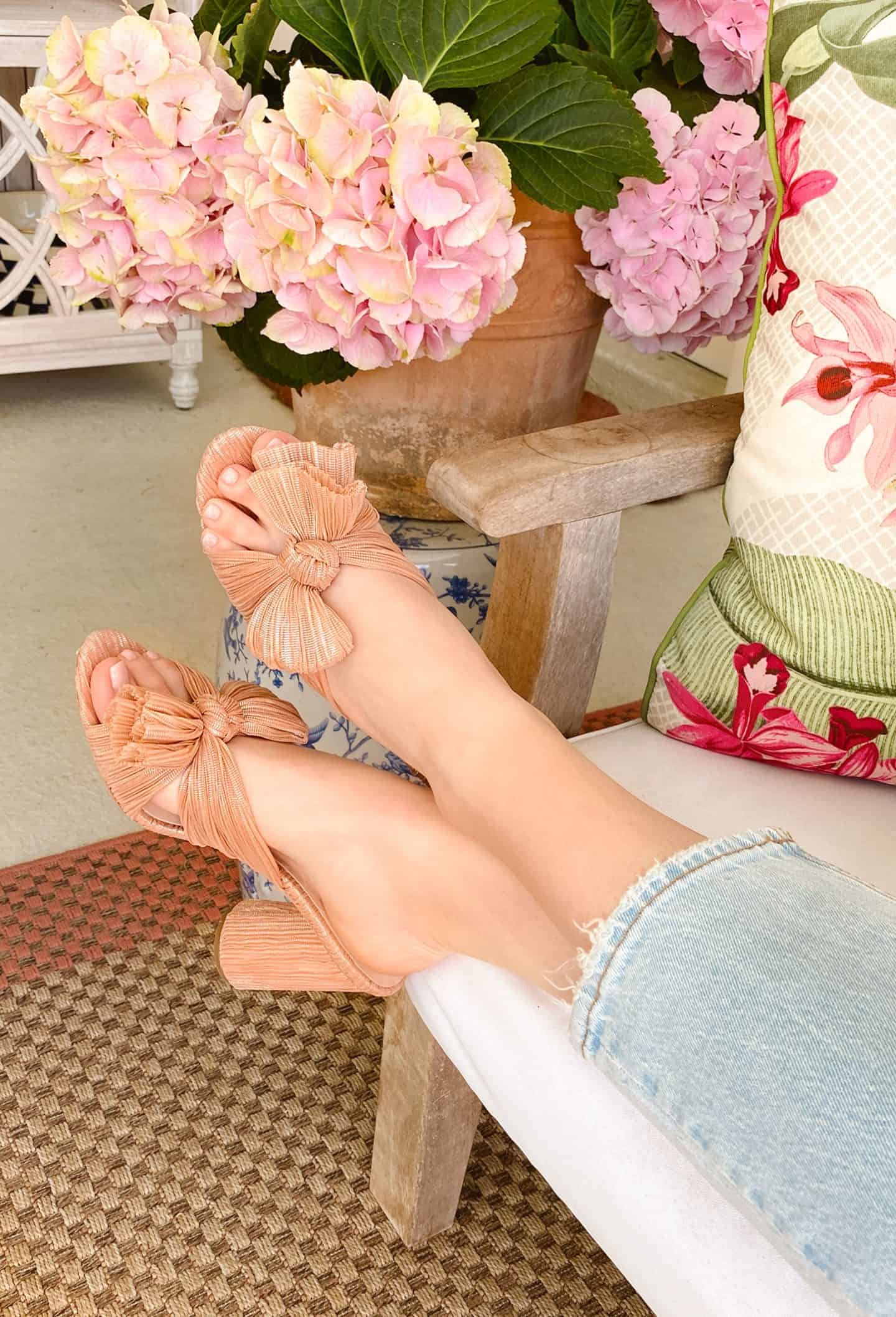 Does Loeffler Randall run small?
No, reviews suggest that the heels are perfectly comfortable and snug fit. So, users shouldn't feel insecure while walking. However, if you have too much fat on the bottom of your legs, you might feel slight discomfort while wearing your heels with strap-ons. This is because the straps hug your skin tightly, to maintain a sleek look. 
Is Loeffler Randall a good brand?
Yes, the brand is a luxury brand and has got editors and beauty influencers all across the globe flaunting it. People love their shoes and go-to wedding pieces for their favorite occasions. 
Who owns Loeffler Randall?
Jessie Randall expresses her feelings about opening her first ever boutique in Manhattan, saying that organizing her business was a significant milestone for her, which she has achieved. 
Where to buy Loeffler Randall shoes?
You can purchase them by directly visiting the official website of the luxury brand. This will give you a better insight into what you should buy or the details you need to know while purchasing your wishlist. You can also go to Amazon and buy Loeffler Randall products from there.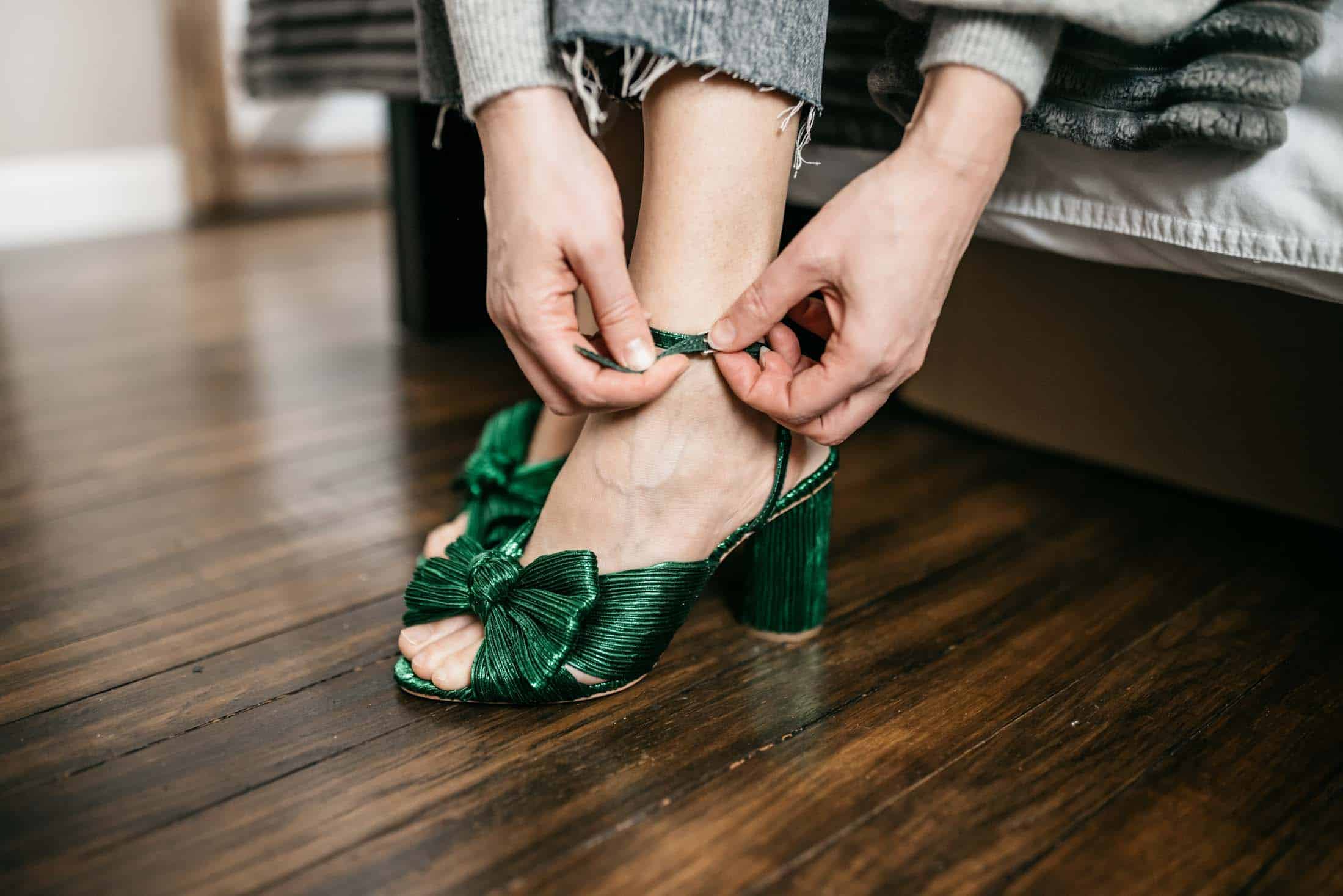 Does Loeffler Randall go on sale?
Yes, the brand's products do go on sale. Sometimes you can even see a 40% discount on their products. This is the best time to buy your favorite things from here, as they are initially expensive. 
Are Loeffler Randall shoes comfortable?
Yes, the shoes are comfortable and do not let you feel uneasy even for a moment. You can wear them and be out all day. Still, you won't get tired. 
Closure 
Fashion players all across the globe have been eyeing Loeffler Randall products for a long time. The brand has been a popular name on people's tongues for its buzziest collections. Whether wedding dresses, vacation outfits, heels to die for, strappy sandals, or embellishments bags, the platform has all the talked-about labels.
But, by crossing the bridge to luxury, your bank account will have drained entirely. So, according to this definitive guide, all Loeffler Randall Dupes will be easier. Loeffler Randall Camellia Heels are still hanging in the number one spot, and these round-up options will help satisfy your cravings. 
If you love color and comfort, you will find yourself neat with these effortless options that instantly boost your outfit's energy and don't even come pricey. These dupes have been making their case in the beauty industry. Users seem to love how trendy these are and how flexible they match the original. So, if you need products to bookmark for your upcoming occasions, we suggest you hold a pen and paper and get started!